Boko Haram abducts 592 in 2014 – Report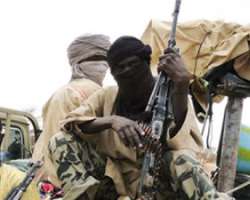 At least 592 were kidnapped by the Islamic fundamentalist group, Boko Haram in 2014.
They were mostly girls, boys and women.
Among them were the 276 schoolgirls abducted from the Government Secondary School, Chibok, Borno State by the sect on April 14.
The abduction, which was the first of nine reported kidnappings by Boko Haram this year, drew international outrage.
Majority of the kidnappings were recorded in Borno State, with the wife of Cameroonian Vice Prime Minister, Amadou Ali, abducted and at least three other people killed in an attack on Ali's home in Kolofata northern Cameroon.
Boko Haram, on May 5, abducted 11 more girls in Warabe and Wala communities in the Chibok Local Government Area of Borno, killing about 300 people in Gamboru Ngala, a border town with Cameroon.
Similarly in June, suspected Boko Haram insurgents abducted about 20 women and three men near Chibok.
Later that month, the insurgents reportedly kidnapped more than 60 women and young girls, as well as 31 boys.
Another attack on August 10 saw the insurgents forcefully conscripting 100 boys and young men in Doron Baga, a village in Borno State.
On October 23, a fresh set of 40 girls were reportedly abducted by the sect in Borno.
In another attack few days later, insurgents killed 17 and abducted 30 boys and girls in Maffa Local Government Area, Borno.
The latest of the abductions came early this month, when suspected Boko Haram members abducted over 20 girls in Lassa.
The Human Rights Watch had identified widespread poverty, corruption, security force abuses and longstanding impunity for a range of crimes as creating the enabling environment for militant armed groups such as Boko Haram to thrive.
Despite President Goodluck Jonathan's declaration of a state of emergency in the north-eastern states of Borno, Adamawa and Yobe — the worst-hit in the country — in May 2013, the pace of attacks by the sect had intensified.
In a report published October 4, 2014, entitled 'Those Terrible Weeks in Their Camp: Boko Haram Violence against Women and Girls in North-East Nigeria,' the HRW said over 500 women and children had been abducted since 2009.
Agency report