Biafra Youth Leader urges Bayelsans to maintain non-violence.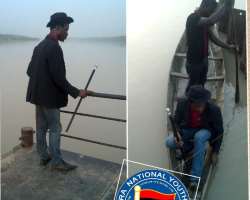 National President of Biafra National Youth League Comrade Obuka Chimezie yesterday urged Ijaw members to maintain Non-violence as recently declared by him, the President stated this yesterday at Yenezuegene in Yenagoa Bayelsa State during his visit to the state capital where he identified with the Youth celebrating Xmas.
BNYL Leader also informed States Executives on the need for peaceful conduct of our activities in the Niger Delta Region and particularly Bayelsa State.
The Coordinator of the State Chapter Comrade Epamowei Dickson assured our Leader that Izon members are loyal to his call.
STILL IN THE NIGER DELTA
The President also moved to Sagbama LGA of the state where he met other key members in Ward 1.
BNYL Leader urged members who gathered at waterside (Sea) to maintain non-violence and abide by the rules and regulations gilding the new Biafran struggle.
He however maintained that the BNYL Organization will not relent until it has achieved the apex of its objectives.
He called on the entire Niger Deltans to continue to cooperate with the Igbo Youths in BNYL so as to realise our aim and objectives.
The President yesterday 26th December 2014 was taken round Agbere town in Sagbama Ward 1 of Bayelsa State, both on land and on sea.
He was also taken to a former Biafran Cell built during the war which has now turned to Post Agency of the Ijaw Youth Council, IYC.
BNYL Leader was highly entertained with Bayelsa rich cultural food, the Roasted fish and plantain which serves as a strong evidence that the good people of Biafra origin will not only rely on oil.
Executives present at Sagbama are The Senior Coordinator Comrade Egebesi Zuokumo Lucky, Epamowei Dickson, Ebiowei Ndiomu, etc. others came from neighbouring Ugheli North LGA of Delta State,
They are Evans Oghenegba, Ogbodu Ovie, Victor Udome, etc.
Sagbama meeting was mixed up. Ijaw, Isoko and Uhrobo
Rofem Obenten
Director of Information.