Michael Orobosa: A Man Destined to Alleviate Poverty in Nigeria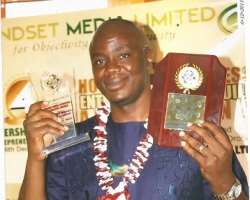 One of the recent political statements issued by former President Olusegun Obasanjo to Nigerian rich people that they should help the less privileged ones in the country for 2015 which High Chief Michael Orobosa Ubogu has demonstrated few years ago and now in Nigeria. High Chief Michael Orobosa Ubogu is the Managing Director of Micura Services Limited, providing world-class stevedoring and equipment leasing services to the Maritime sector over the years. The man Ubogu is a down-to –earth and committed to God's kingdom in all ramifications. Born 44 years ago at Ashaka in Ndokwa East Local Government Area of Delta State and also hailed from Ozoro in Isoko North Local Government Area of the same state. He had both his primary and secondary education at Ashaka and University education at Obafemi Awolowo University where he read Personal management and Industrious relations and other management courses from other institutions in Nigeria and abroad. He is the present Vice- President of National Association of Steve doring companies, western zone, Nigeria.
As a village boy growing up in Ashaka, he knew what he wanted and pursued his career to the core. He was born from a humble background where his mother taught him about satisfaction of life and he grew up with it. He started Micura Services Limited in 2004 and today the company has grown with the employment staff over 4000. One thing about Michael Orobosa is self-made to the core in terms of creative knowledge. He is not carried away by the things of the world but ready to put smile on the faces of the less privileged ones in Nigeria. He is a man made by his words and does not make promises he cannot fulfill in life. Though starting Micura Services Limited 10 years ago was not easy but God saw him through.
Again, Michael Orobosa is one distinguished philanthropist and entrepreneur that has love for the poor. He is called to alleviate poverty in his own little way in Nigeria. As a trained Maritime expert, he was able create new structures in the industry that made Micura Services Limited to be sought after in Nigeria. He grew up in well- disciplined and regimented home where ethics and culture were taught.
However, when Chief Orobosa Ubogu came to Lagos after his education few years ago, he was employed with some private manufacturing companies where he rose to a manager and he bought a car and when his biological mother came to visit him, she could not talk to him for three days taught Chief Orobosa Ubogu had stolen money to buy the car but he had to explain to her and shown his payment slip for clarification. Nobody works with Orobosa and remains stagnant in life unless such person is cursed. He is the patron of Wazobia Widows Foundation and Mindset Media Limited and others in Nigeria. He has used his God's given resources to empower less privileged Nigerians, widows, orphans and others. Though, he does not have passion for politics but his meritorious services to humanity that made Stevedoring workers to elect him as the Vice-President of the association early this year.
Finally, within a space of one year, he has received three meritorious awards to his credit. He is a man full of wisdom to the core. He has over the years established trust in his business without squabble. He is a man after God's heart. His astuteness has brought him before great men in Nigeria. He is happily married to a beautiful wife and blessed with children.
Godday Odidi
Public Affairs Analyst
08058124798
Lagos

Disclaimer:

"The views/contents expressed in this article are the sole responsibility of the author(s) and do not necessarily reflect those of The Nigerian Voice. The Nigerian Voice will not be responsible or liable for any inaccurate or incorrect statements contained in this article."
Articles by Godday Odidi