I Never Broke Fela's Heart.......Singer, Sandra Isidore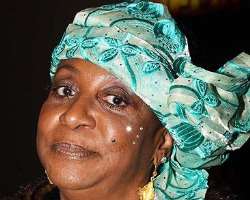 Regarded as the empress of Afrobeat music fortress, Nigerian singer, Sandra Isidore, has admitted that legendry Afro Beat singer, Fela Anikulapokuti, proposed to her but she turned him down.
The singer disclosed to Punch that she actually loved the singer but was so smart not to accept his love advances because he already had 27 wives.
Sandra who is being described as the most influencial woman in Fela's life defended the aspect she is being accused of breaking the singer's after she had developed the feelings of wanting to marry him.
She said, "I did not break his heart. He broke his own heart in learning lessons of life… However, in 1982, Fela proposed to me in the city of love, Paris. How romantic that was. But I turned him down again… He had 28 wives, remember Remi, his first wife? And he married 27 of his dancers. He also had numerous concubines. This was in the 80s. So tell me which intelligent woman, in her right mind, would want that deal of chaos? who would want that? I am not answering anymore of your questions. I didn't marry Fela because I am a very smart, blessed woman….I was protected by the universe from him, and that's why I did not marry him. I submit to spiritual guidance, that was love and divine intervention… he was sent by divine intervention to make a change for black people in this world."
She further explained that she did not to deal crowd which was another reason she turned his offer down.
"I didn't want a deal of chaos. But I was happy when he married 27 wives…who would not be happy Fela married 27 wives?" she added.