PLAYING POLITICS ON GOD'S ALTER.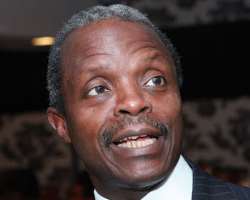 "One of the truest tests of integrity is its blunt refusal to be compromised." - Prof. Albert Chinualumogu Achebe (Chinua Achebe).
\With the primaries of the major political parties in Nigeria done and dusted, all focus appears to have shifted to the emergence of Prof. Yemi Osibanjo as the running mate of Pa. Muhammadu Buhari. While some see his emergence as a form of compensation to Alhaji Bola Ahmed Tinubu, owner of the APC, others pretend to see it as a choice of Pa. Buhari. Some even consider it as a trick that will cause Nigerian Pentecostal Christians to tilt towards the largely Islamic APC.
Irrespective of the general feeling about the emergence of yet another emergency politician, I must admit having studied the profile of Prof. Yemi that having him as vice-president after 2019 would be a sound idea but for an ugly twist I discovered about him. By my estimation, Integrity is an intangible attribute which cannot be measured in numeric terms but remains an essential trait which every aspirant to a public office of trust must possess. It is to this extent that I consider Prof. Yemi Osibanjo morally unfit to occupy the exalted office of the Vice-President of The Federal Republic of Nigeria.
The basis on which I consider the integrity of Prof. Yemi Osibanjo questionable is not farfetched; he is a product of the Tinubu political dynasty. Irrespective of what label his PR handlers hang around his neck, it remains to be seen how a product of the Tinubu political dynasty can be said to be honest and independent minded. Yes, they parade themselves as technocrats from diverse fields but beneath their cloak are a people who would never take any important decision without express approval from Bola Tinubu. As I write, I am fully aware as a matter of fact that certain sums of money due to contractors are never paid without approval from Bola Tinubu; he decides when funds are paid and the terms of payment. This is just one instance of why I will ever remain suspicious of any product of Bola Tinubu's political family irrespective of how vast and learned they may lay claim to be. Intellectually, they are sound; morally they are a dirty people with no regard for morality itself.
The case of Prof. Yemi Osibanjo is peculiar in this regard. Following his emergence as running mate to Pa. Buhari, the former maximum dictator described him as a "man of impeachable integrity." He actually meant impeccable. Granted, the Prof. may be a man of integrity as that word is known to mean something else in the APC but to what extent can his integrity be impeccable given the roles he played alongside retired Col. Kayode Are during the trial of Al-Mustapha in a case involving an attempt on the life of Dr. Alex Ibru and the murder of Alhaja Kudirat Abiola?
In the cases under reference, Nigeria Army Sergeant Barnabas Mshelia after admitting to being the marksman that pulled the trigger against Olorogun Ibru made a surprised u-turn and disowned that testimony when cross-examined. He confessed before the courts under the watch of Nigerians 7 the international community that the SSS under Colonel Are and Prof. Yemi as Attorney General of the Lagos State Government pressured him to lie against Major Hamza Al-Mustapha. Again in late 2009, when the case of the Late Alhaja Kudirat Abiola was called for hearing, the same Nigeria Army Sergeant Barnabas Mshelia entered the dock clinching a copy of the Holy Bible firmly to his chest. After taking the Christian oath, promising to disclose only the truth, Rogers as he was widely known broke down in tears and wept profusely. He was uncontrollable.
He passionately begged Major Hamza Al-Mustapha to forgive him for acting a script prepared and forced down on him by the duo of Colonel Are and Prof. Yemi as Attorney General of the Lagos State Government. He confessed he was given a house and money and also persuaded to mislead the courts with a view of indicting Major Hamza Al-Mustapha. He would later proved that on the day the Alhaja was killed, he was in Abuja not Lagos contrary to what Prof. Osibanjo told the courts. He exposed the law professor to be an unrepentant liar. Much later, a certain Katako, driver of Mohammed Abacha who admitted driving the car from where shots were fired against Alhaja Kudirat Abiola made a volte face when he confessed he was promised a portion of Abacha's loot if he nailed Major Hamza Al-Mustapha to her murder. This he did when it became clear to that Prof. Osibanjo lacked powers to fulfill that promise.
Personally, I am worried that in this computerized era, we as a nation appear not to have any sense of history. This is dangerous. Beyond being a law professor, a clergyman, a compere at national programs of the Redeemed Christian Church of God and his stinct as justice commissioner of Lagos State alongside his other achievements in life, what does Prof. Yemi Osibanjo stand for as an individual? To what extent can he be considered honest and truthful? Can his integrity bluntly refuse to be compromised?
Ezeani, Chukwunonso Elvis is the South West Zonal Director for Communication, Research & Strategy at the Peoples' Democratic Party National Youth Frontier. He can be reached via @NonsoEzeani1
Disclaimer:

"The views/contents expressed in this article are of (the) AUTHORS (or Contributors or Columnists) and do not necessarily reflect those of NigerianVoice. NigerianVoice will not be responsible or liable for any inaccurate or incorrect statements contained in this article."
Articles by Ezeani Chukwunonso Elvis