…Time to Heal Nigeria with Love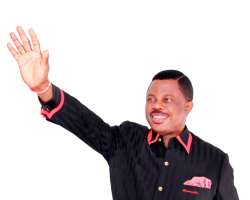 A Christmas Message from the Governor of Anambra State, His Excellency, Chief Willie Obiano
Ndi Anambra, we are once again in that special period of the year when Christians from all over the world come to a momentary break to mark the greatest act of love known to mankind – the birth of our Lord Jesus Christ.
All over the world, Christmas is seen as a season of love and profound affection as well as a season of remembrance and nostalgia. It is a time when love and kindness rule the hearts of many Christians.
For Nigerians, this year's Christmas should serve as the clarion call to heal our country with love. The outgoing year presented a huge challenge to Nigeria on many fronts. While the nation reeled from the shockwaves of avoidable bloodbath caused by terrorists in the North, Nigerians suddenly woke up to the horrifying nightmare of the dreaded Ebola epidemic. At some point in the year, our prospects as a nation were bleak as Nigerians waited for a glimmer of light at the end of the tunnel. It is instructive to recall that at that critical moment, Nigerians from all faiths and regions were united in love against this new and common enemy.
Our eventual triumph over the Ebola Virus Disease is proof that if we are united in love against any enemy, victory would be just a matter of time. As we celebrate this Christmas, we will do well to remember that our differences do not always count whenever we let love reign in our individual and collective lives. Let us always remember that when defeat stares us hard in the face we can be sure that with love victory is guaranteed.
Here in my beloved Anambra State, we have made bold efforts to heal the land with love. We have expanded the boundaries of freedom by tightening the security network in Anambra State. Today, our people move around freely and show love to one another. We have also worked to strengthen the bonds of brotherhood by making great efforts to build consensus among our brothers and sisters. Although we have not yet attained our optimum in building the bonds of love and unity amongst our people, our chances of success are brighter than before. Ndi Anambra I have no doubt that one day, we shall heal this land with love!
In full awareness of our people's sense of community and our love of sharing during Christmas, we have instituted the Anambra Heritage Festival to spice-up the festive period for everyone. I urge you to turn out with your families at the various events lined-up during the week and enjoy in the company of your friends and loved ones. I believe that some of the programmes like the Carol of Nine Lessons, Obiano Football Fiesta, the Boxing Match and The Jamblast etc. will leave you with a deep sense of a memorable Christmas in Anambra.
Once more may I remind our people that the task of making a new Anambra can only be achieved when we work together as one. It is a long and arduous task that demands a sacrifice from everyone, but I have no doubt that together we will realize our goal of a new and greater Anambra State.
Once again, I wish you all Merry Christmas and a prosperous New Year.
Chief Willie Obiano
Governor, Anambra State