WCC hosts Special Thanksgiving service for Ajidagba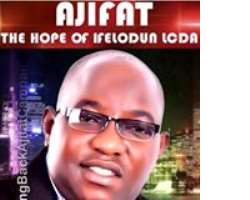 The General Overseer of Wisdom Christian Centre, pioneer of Achieve Success Project and BringBackAjifatCampaign,Rev.Ifeanyi OlububeJesus recently hosted a special thanksgiving service for Hon.Shuaib Fatai Ajidagba(Ajifat) to mark his first tenure as the former Ifelodun LCDA chairman in Lagos at the church headquarters.
Speaking at the service, Rev. Ifeanyi OluebubeJesus who read his address stated the importance of thanksgiving and said Wisdom Christian Centre 2014 Annual Thanksgiving service is tagged "Possibilities". Thanksgiving is a season set aside to appreciate God for what He has done, for what He is still doing and for what He is about to do. He also used the medium to thank God for Hon.Shuaib Ajidagba's meritorious first term as the executive chairman, Ifelodun LCDA,family and his cabinet for taking the local government to the promised land.Infact,Hon.Ajidagba remains the best local government chairman ever produced in Lagos State. I cannot stop thanking a leader who gave me a privilege to go to 2014 Jerusalem pilgrim. He is worthy to be a leader and must be supported for his second term ambition. He is the only former local government chairman in Lagos State that paid for the highest Christian pilgrims to Jerusalem.
Speaking further, he said Wisdom Christian Centre started in 2005, having heard from God clearly to go back to school to equip myself with sound knowledge of life.WCC gave birth to Goodnews Computer College, Goodnews Foundation School, Achieve Success project and BringBackAjifatCampaign.
Pastor Anaelechi Peter who was the guest speaker spoke on the" Power of thanksgiving and read his scripture from John 6:9-13 emphasized greatly on giving. He said everybody whether pastor or not should learn how to give and to receive blessings from God. You must give to eradicate poverty in one's life.
Those that graced the thanksgiving service were Austin Adinnu,Bishop Raphael Ologunde,CAN chairman,Ifelodun,Mr Chime and wife,Mr.Ifeanyi Ofoegbu and representatives of Ajidagba and others.