Bloody Bath: Two Brothers Die During A Spiritual Bath In The River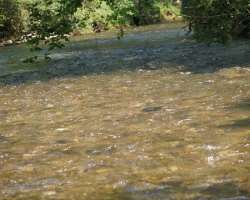 What started out as a spiritual bath turned into a bloody one, when two brothers drowned after following instructions of their pastor to bath in a river, in Ogombo area of Ajah.
The deceased, 23-year-old Abiodun and 20-year-old Ayinde Oniru, and one of their step-brothers were reportedly taken to the church by their father and step-mother on Thursday, December 18, for spiritual cleansing.
However, after three days, they were supposedly advised to complete the cleansing with a spiritual bath, but their step-brother refused and left the stream, leaving behind his brothers with their step-mother and Pastor of the church identified as Pastor Samuel Olusoji.
The pair would, however, drown during the spiritual bath, after which the case was said to have been reported at Ogombo police division, and a team of policemen stormed the church.
According to the police, when officers got to the Cherubim and Seraphim church, the Pastor and church members took to their heels, with the police only managing to arrest the church's secretary.
"We are still on the trail of the senior Pastor of the church. He is currently on the run. He has questions to answer. Meanwhile, the autopsy report will form basis for our investigation. It is only then that we can be able to establish the cause of their death," the Police said.