Jonathan begs aggrieved aspirants not to dump PDP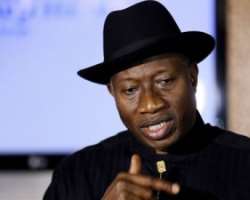 President Goodluck Jonathan on Saturday appealed to all the Peoples Democratic Party aspirants who are aggrieved as a result of the outcome of its primaries across the country not to leave the party.
Jonathan who spoke at the PDP Fund Raising Dinner, held at the old Banquet Hall of the Presidential Villa, Abuja, assured that the party leadership was working hard to resolve the conflicts thrown up by the primaries in many states.
'We all appreciate that throughout the congresses where primaries were conducted, there have been some outstanding issues. The party is working to resolve these issues. Definitely, in such a situation, all may not be resolved to the satisfaction of everybody.
'But my plea to party members is to remain committed to the party; stay with the party.
'I know other parties are wooing some of you to contest elections on their platforms, but if you believe in democracy then you will contribute to strengthening it.
'The only way you can strengthen democracy is for you to stay in your party.
'If there are some issues you feel are not too correct, it behoves on us to stay together and correct them. That is the only way we can grow democracy.
'If out of anger or frustration, you leave the party because you didn't get what you wanted, then you are not contributing to the growth of democracy," he said.
The President said the major task before the ruling party was to ensure that the country remain united, while he expressed his gratitude to those who donated the over N21bn realised at the dinner, he said the money was needed to build a formidable party.
President Jonathan said that if parties were tied around individuals, there would be dictatorial tendencies in such parties.
He therefore promised that the money realised would be judiciously utilised, like his administration had done with the different funds raised earlier.
Describing his administration as business-friendly, he promised donors of more policies that would promote enterprise and industry.