HERE THEY ARE: 2014 SOCIAL MEDIA AWARDS AFRICA FINALISTS ANNOUNCED!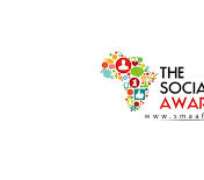 After many weeks of palpable excitement, the finalists for the Social Media Awards Africa (SMAA) are finally unveiled.

The 43 finalists represent the successful entries received from over 26 countries for the maiden edition of the continent-wide recognition and reward platform which features 15 awards across 4 categories.
The SMAA journey began with the call for nominations over a 27 day period. On November 18, 2014, the voting stage commenced with the hashtag #SMAA2014 garnering over 92.91 million cumulative impressions on twitter in about three months. This was simultaneously conducted with the judging by an eminent Jury of experts and professionals (Fred Swaniker, Founder & Executive Chairman, African Leadership Academy; Eric Chinje, Chief Executive Officer, African Media Institute; Ken Banks, Founder, kiwanja.net; amongst others) drawn from various fields across Africa. The rigorous voting process and evaluation by the SMAA Virtual Council and Jury were based on five criteria: Influence, Originality, Creativity, Scalability and Impact. The nominees' votes accounted for Fifty per cent (50%) of the cumulative scores and Jury scores accounted for another Fifty per cent (50%).
Here they are, the 2014 Social Media Awards Africa Finalists:
A. PERSONALITY BASED (Awards for individual achievements in social media):
– Blogger of the Year
1. Philip Etemesi Kenya
2. Ogunsaya Jide Nigeria
3. Ben Kiruthi Kenya
– Social Media Personality of the Year
1. Ayari Yassine Tunisia
2. Japheth Omojuwa Nigeria
3. Luyando Haangala Zambia
– Social Media Hero
1. Japheth Omojuwa Nigeria
2. Michael Hlatshwayo South Africa
3. Xtian Dela Kenya
B. PLATFORM (Specific Social Platforms):
– Facebook Page of the Year
1. All4 Women South Africa
2. Barefootlaw Uganda
3. Comedy Central Africa South Africa
– Twitter Handle of the Year
1. @jimitewe - Jimi Tewe Nigeria
2. @XtianDela - X-tian Dela Kenya
3. omojuwa - Japhet Omojuwa Nigeria
– Influencer of the Year (LinkedIn, YouTube, Google+, Instagram)
1. The Love Tour KE Kenya
2. Kemi Omololu-Olunloyo Nigeria
3. X-tian Dela Kenya
C. INSTITUTIONAL (Best Use of Social Media by):
– Government/Public Sector
1. Republic of Rwanda Ministry of Youth and ICT Rwanda
2. Kenya National Youth Service Kenya
3. Ekiti State Government Nigeria
– Private Sector
1. Informer East Africa Tanzania
2. DHL Africa Kenya
3. Popi Media South Africa
– Non-Profit
1. Stand to End Rape Nigeria
2. Nil
3. Nil
– Start-up/MSME
1. Adforumco Nigeria
2. AIM Group Tanzania
3. TVyangu Kenya
– Financial Institution
1. Stanbic IBTC Nigeria
2. KCB Group Kenya
3. Access Bank Nigeria
D. INDIGENOUS (Local Campaigns and Brands):
– App of the Year
1. ICOW Kenya
2. Afrinolly Nigeria
3. MPesa Kenya
– Hashtag of the Year
1. #TheNiteTalk Kenya
2. #letsnotpretend Ghana
3. #choice4life Nigeria
– Brand of the Year
1. Raha 2.0 Tanzania
2. Jumia-Nigeria Nigeria
3. Vodafone Ghana Ghana
– Best Rated Platform
1. All 4 Women South Africa
2. Nigeria Trade Hub Nigeria
3. Bizcommunity.com South Africa
Fifteen (15) Awardees will be recognized and rewarded at the 'Night of Virtual Wonders' award presentation event billed to hold on January 24, 2015 in Lagos, Nigeria.
Winners of the 2014 Social Media Awards Africa will be rewarded with US$1,000, SMAA Plaque, Institutional Trainings, Access to relevant social influencers amongst other benefits.
The SMAA Secretariat will publish a Jury Learning Report and breakdown of scores a week after the awards ceremony.
The Social Media Awards Africa is sponsored by Sterling Bank Plc. AIESEC Africa, West African NGO Network (WANGONET), Beat FM, Fan Milk Nigeria, Zisat, Trace TV and African Media Initiative (AMI) are also Partners.
For more information, visit www.smaafrica.com
ABOUT DEVELOPMENT DIARIES
www.developmentdiaries.com, @Dev_Diaries, [email protected]
ABOUT STERLING BANK
www.sterlingbankng.com, @sterling_bankng, [email protected]