I'm Not Wasteful, I Won't Lose Focus—Harrysong Vows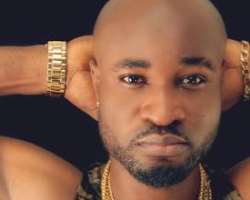 Five Star Music artiste, Harrysong, has dedicated his newly acquired 2010 Hummer Jeep to his grandmother, who he says had predicted that he will be a star one day.
According to the singer, his grandma has always wanted him to succeed in life and that today, she is alive to witness his transformation.
"I dedicate my new baby (the Hummer) to my grand mom who has always wanted me to succeed in life. I thank God Almighty she's alive today to see what I have become in life. Better things are even on the way, Mama. I thank you for your prayers and blessings," he said.
The singer, who declared to Encomium magazine that he has just a car, which is a Toyota Camry, explained that he does not like spending money anyhow, but had to go for an Hummer Jeep because he likes classy and big things, especially the car's ruggedness.
"You know I'm not frivolous. I'm a serious mind. I account for every kobo I sweat out. Trust me, I can't afford to be wasteful, considering where I'm coming from. While we don't make noise about our investments, I can assure you Harrysong can't lose focus," he promised.