St. Paul Peters Says Yar'Adua May not Survive if…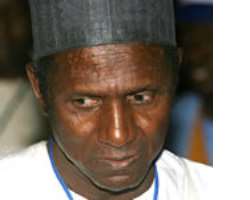 Sequel to the precarious state of President Umaru Yar'Adua's health condition which has thrown the nation into anxiety a Lagos based Prophet; St. Paul Peters has joined other concerned Nigerians in calling for prayers for the President's survival. Speaking prophetically he said if people fail to show sincerity and commitment in their prayers for the President, Yar'Adua may lose his life.
St. Paul Peters is of the Ijesha extraction in Osun State, his real name is Adedoyin Paul Agboola, and he is also a multi-instrumentalist and a gospel musician. Speaking on the subject matter he said:
''I was stunned myself with the vision I had some nights ago, concerning Mr. President, we may lose him if we fail to maintain a veracious prayers for him in this critical moment of his life. People who are currently jubilating about his present conditions or disparaging him concerning certain lapses at this time need to be very careful, prayers, prayers and prayers are the indispensable ingredients required for the survival of President Umaru Yar'Adua, I sincerely sympathize with him as well as members of his extended and immediate families. I humbly implore people like Pastor Enoch Adeboye, Bishop David Oyedepo and the host of others, to engage in what I can call marathon prayers, so that the nation would not be doomed in the instance our dear President. Everyone should also know that losing a leader on the throne is never a good omen for any nation who strives for development. And I stand to be corrected anywhere, I am not a prophet of doom, I don't wish him any ill luck especially his precious life, but the signs I am seeing as a prophet of a living God shows that things our likely not going to be well at all.''
It is no longer news and it's already a public knowledge that that President Yar'Adua had earlier been diagnosed for ACUTE PERICARDITIS, according to a statement credited to Dr. Salisu Banye, FWACP Chief Physician to the President precisely in November 26, 2009.
The statement reads:
"At about 3pm on Friday, November 20th, after he returned from the Abuja Central Mosque where he performed the Juma'at prayers, President Umaru Musa Yar'Adua complained of left sided severe chest pain. Preliminary medical examinations suggested ACUTE PERICARDITIS, (an inflammatory condition of the coverings of the heart).
It was then decided that he should undertake confirmatory checks at the King Faisal Specialist Hospital and Research Centre in Jeddah, Saudi Arabia where he had his last medical check-up in August.
The medical review and tests undertaken at the hospital have confirmed the initial diagnosis that the President is indeed suffering from ACUTE PERICARDITIS. He is now receiving treatment for the ailment and is responding remarkably well."
Meanwhile the Federal Executive Council through the minister of Information, Prof. Dora Akunyili, at its 46th meeting held today, Wednesday 2nd December, 2009 took notice of calls by some people for the invocation of the provisions of Section 144 of the 1999 Constitution of the Federal Republic of Nigeria for Mr. President to resign his appointment on the ground of ill health. Council, having reviewed all the facts on the ground, unanimously resolved that there is no basis for the invocation of the provisions of Section 144 of the Constitution, for the reasons that the President has not been found incapable of discharging his functions. Council wishes to inform all Nigerians that all organs of government are functioning, and that government will continue to deliver.
Nigerians have witnessed series of Prophetic utterances in the past from various men of God in the country who one time or the other made certain pronouncements on issues of national interest which often come to pass, especially from the embattled Prophet T.B. Joshua of the Synagogue Church of All Nations (SCOAN). This is a clarion call for all Nigerians both old and young, to sheathe their swords and pray very strongly for the unity of Nigeria and recovery of President Umaru Yar'Adua from its current precarious health issues which bothers on his heart and kidney. The hint from Prophet St. Peters Paul should not be treated with levity; the survival of our President to continue with his good works should be our paramount concern as a strong united nation in the continent of Africa.
St. Paul Peters can be contacted on [email protected]
Source: Olayemi Brown
Development / Accra / Ghana / Africa / Modernghana.com