FG will transform Aviation College, says Chidoka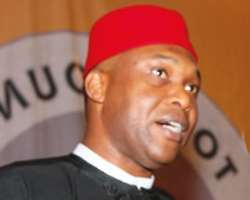 Minister of Aviation, Chief Osita Chidoka, said transforming Nigerian College of Aviation Technology, Zaria to meet 21st century aviation challenges, was one of the topmost priorities of President Goodluck Jonathan's administration. Chidoka spoke to newsmen on Saturday in Zaria, after inaugurating projects in the college, as part of the activities to mark the 50th anniversary of the school.
'As you can see, it is part of the present administration's giant stride to reposition the college that three projects are commissioned today. 'We have commissioned Visual Tower Simulator for the training of Air Traffic Controllers and Pilots, Aslim Simulator and two new Helicopters Bell 206 and many more are on the way. 'I believe that President Goodluck Jonathan's administration has shown foresight and trust in the capabilities of the people managing the aviation sector,' he said.
Chidoka said that currently, 22 airports owned by the Federal Government were at various stages of becoming world class airport terminals, with latest equipment and infrastructure. 'The Federal Government has made tremendous progress in repositioning the country's aviation sector with the completion of the first phase of airport rehabilitation project. 'The N38 billion worth of projects, which involves remodeling of 11 airports are nearing their completion and the second phase has progressed very swiftly,' he said.
The Rector of the College, Capt. Samuel Caulcrick, said it was the desire of the founding fathers, for the college to be a famous aviation institute in Africa and among the best in the world. He said in the last 50 years the college had worked tirelessly to achieve its mandate by significantly improving to become a centre of excellence. NAN