Explosives: Police IG issues warning on wrapped Xmas gifts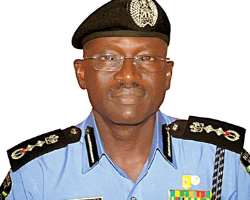 The Inspector General of Police (IGP) Suleiman Abba, has advised Nigerians to be careful when accepting wrapped gifts, especially from unknown persons as the Yuletide season draws near.
Abba gave the advice yesterday in Abuja to Nigerians in the light of the Yuletide season and emerging security challenges in the country. 
In a statement issued by the Force Public Relations Officer (FPRO) Ag Commissioner Emmanuel Ojukwu, Abba 'warns all citizens to be vigilant while receiving gifts from unknown persons that may pose as friends during the season, to avoid explosive-laden hampers as gifts.'
 The statement said the IG 'also caution against the use of fireworks such as knockout, 'bangers' and other explosives in the celebration as they could cause distraction that may further heighten fear of insecurity.'
While enjoining 'citizens to shun all forms of violence and unlawful acts, eschew bitterness, hatred and rancor and go about their legitimate duties without fear of intimidation from any quarter during and after the season. 
Abba maintained that Commissioners of Police in the state commands must personally ensure that flash points in and around the country are secured, with the safety of Nigerians guaranteed. 
'To ensure a peaceful and incident-free Yuletide, the IGP has directed all Zonal AIGs and Command Commissioners of Police, to take all necessary measures in ensuring the provision of adequate security for worshippers, travellers, picnickers and all citizens across the country before, during, and after the season.