Crescent University Signs MoU with Turkey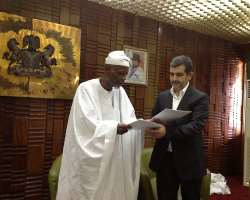 Turkey has signed a Memorandum of Understanding with Crescent University, Abeokuta, the institution that prides itself with academic and moral excellence.
The pact was signed during the fourth annual convention of the Muslim Public Affairs Centre ( MPAC) held at the National Theatre, Iganmu, Lagos.
The proprietor and the leader of the delegation of the pioneer Islamic university in Nigeria, Prince Bola Ajibola said he was gratified with the signing of the MoU between Turkey and Crescent University.
Other members of Crescent University, Abeokuta present at the signing are the Vice Chancellor, Prof. Ibraheem Gbajabiamila, Registrar, Barr. Zakariyya Ajibola, Chief Protocol Officer, Mr Saheed Aweda and the Public Relations Officer, Mr Idris Katib.
Prince Ajibola stressed that his university had produced people of sound moral character who are now in further studies or gainfully employed, noting that what stood Crescent University out from other universities was the breeding of brilliant and morally sound characters rather than "brilliant beasts".
Ajibola recalled a recent example where students of Crescent University refused to joined other unruly students from some universities in a riot against a state governor after installation of an Emir.
He also recalled that some decades ago, Turkey used to be a humble country but now a shinning example to the world in tourism and commerce.
The leader of the Turkish delegation, Dr Haci Kutlu promised mutual co-operation with the university, having examined thoroughly the progress the institution has made so far in its contribution to knowledge and moral upbringing of future leaders