Oritse Femi's Attention Diverted After Bashing New Car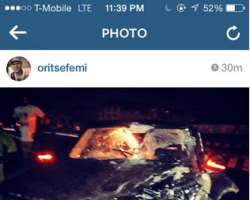 Still in euphoria of his career which has earned him various accolades, wave making singer, Oritse Femi, has just gotten a sad weekend as he just crashed his new Range Rover Evoque Jeep given to him by his record label, Avartar.
In a devastating mood, the singer posted the picture on his social media page with the caption "Oh My God!" but has since deleted the post. He was however happy for coming out alive and thanked God for keeping his life.
When the singer got the car, he was so happy that he called on his friends and fans that he was dedicating the car to them and was ready to support them anytime he is being called upon.
According to him, "Shoutout to all my never say die FANz..... dis is dedicated to u all ....holla at me wen ever y'all need my attention I never change I still remain whom I use 2 be."
The car which was given to him on Nov. 30th has been damaged beyond repair.