Imoke, Akpabio, Yuguda, others hold closed-door meeting with Obasanjo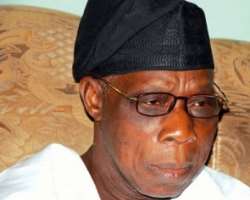 Some prominent governors of the Peoples Democratic Party (PDP) held a meeting with former President Olusegun Obasanjo (who was their political godfather) behind closed doors at his Hilltop Mansion in Abeokuta, ostensibly to pacify the former president, who appears to be dissatisfied with the performance of the current administration of President Goodluck Jonathan.
The Chairman of the PDP Governors Forum, Godswill Akpabio, who is the governor of Akwa Ibom State; his Bauchi State counterpart, Isa Yuguda and Cross River State Governor, Liyel Imoke, the governor of Jigawa State, Sule Lamido, and Babangida Aliyu of Niger State visited the ex-president.
After the meeting, Obasanjo told reporters that issues affecting the nation were discussed.
'Most of these issues I have raised in my public pronouncement in recent time and they are not to castigate anybody or run anybody down. It is out of genuine concern. We looked at the issues closely and objectively and we came to the conclusion that we have a bad situation but it is not irreversibly bad.
'Something can still be done. What is required is the will and the courage to do something when and how it needs to be done,' former President Obasanjo said.
The former President further expressed gratitude to the Governors for the regard and respect accorded him, but stressed that the task was not a task for one man or group.
'It requires all hands on deck, so that the country which is ours, for which we have no alternative, will be safe to live in. So, it is incumbent on us to do what is right,' Obasanjo emphasised.