Botched return: Tukur to appeal court ruling on PDP chairmanship seat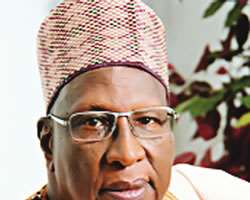 A former National Chairman of the Peoples Democratic Party, Alhaji Bamanga Tukur, whose bid to return to office 10 months after his resignation was dismissed by a Federal High Court in Abuja, on Tuesday, said he will appeal against the court's judgment.
Speaking through his lawyer, Mr. Adeboro Adamson, on Wednesday, Tukur told journalists that the notice of appeal would be filed in the Court of Appeal, Abuja, on Thursday.
Tukur had asked the Federal High Court to declare his resignation on January 15, 2014 as null and void as same flouted the provisions of the constitution which required that a 30-day pre-resignation notice must be given to the National Executive Committee of the party.
He had also asked the court to void the appointment of the incumbent National Chairman of the party, Alhaji Adamu Mu'azu, on the grounds that his appointment flouted the provisions of Section 45(1) and (2) of the party's constitution, which makes it mandatory for the party's chairman to emerge at a national convention.
He also urged the court to reinstate him to his office.
He sought these prayers in a counter-claim which he filed in response to the main suit instituted by a member of the PDP in Adamawa State, Aliyu Gurin.
Justice Evoh Chukwu on Tuesday dismissed both the main suit and Tukur's counter-claim for being an abuse of court process.
Tukur's lawyer, while indicating his client's intention to appeal against the court's ruling on Wednesday, also debunked reports that he was the one who instituted the suit.
'My client, Bamanga Tukur, was not the plaintiff in the suit filed to oust Adamu Mu'azu. As a matter of fact, he was joined as 2nd defendant in the suit,' Adamson said.
But he said he would contest the conclusion of the judge who had held that the counter-claim by his client, who was a defendant in the suit, was not recognised in law.
Justice Chukwu had dismissed the counter-claim on the grounds that it was supporting the case of the plaintiff and ran contrary to the stance of other defendants in the suit.
Gurin, through his counsel, Lilian Ojimma, had on Wednesday filed an appeal against the judgment.
In the appeal, he wants the court to set aside the judgment and rule that Mu'azu's appointment as the national chairman of the party was illegal.
The appellant also faulted the judgment on the grounds that Justice Chukwu erred when he held that he (appellant) lacked the locus standi to institute the action.
He wants the court to rule that the lower court erred when he held that the PDP complied with the provision of the party's constitution without making a pronouncement on whether the 30 days' notice required under Section 47(5) of the PDP constitution was discretionary. - Punch.