OWERRI SENATE: The Beer Parlour's Perspective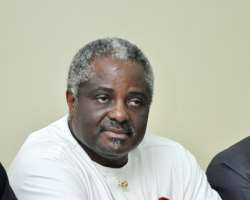 Two major sources of unsolicited information this era of politics and politicking remains the vendors stand at street corners in the cities where free readers argue their positions in favour of their choice candidates. The same is true of beer parlours and the various drinking places scattered over town.
In Imo State our state, the fever is fast spreading as the time ticks for the 2015 general elections and with the uncertainty over the Peoples Democratic Party's delegates list which lies prostrate with the gods of Wadata House in Abuja. The city of Owerri is awash with speculations over who gets what and who becomes what, and who contest what position in the zone, come February next year.
Apart from the race for Douglas House which is a favourite item engaging the attention of most Owerri people. Not with the attempt to deny the zone of the seat of power, by Okigwe zone, the people are also interested in who becomes the next senator for the zone. It was this case that I met in one of the Nkwobi joints in Orji area of Owerri North. Hope you know or must have heard of this town Orji. It is that town in Owerri North where the people refused and fought successfully against everything thrown at them in making sure Chief Ohakim left Douglas House in 2011.
This was the place I met these politically aware, fun loving Owerri men, discussing serious politics over some bottles of Hero. The Journalist in one made me pay attention despite my Nkwobi. They recognized the big lift Senator Anyanwu gave the seat. The surprise was that Anyanwu could have been allowed to continue if she so wanted they said.
This setting is that type where issues especially political issues are discussed without diplomatic finesse. A spade is called a spade in beer parlors.
The aspirants especially the notable ones were brutally analyzed. It may surprise you the depth of their analysis of these senatorial aspirants in Owerri zone. In fact, there is one harsh word for each would be candidate, but at last a candidate was their obvious choice, and that candidate was Chris Asoluka.
Chris according to my accidental friends has some inert qualities which set him above all other aspirants across political divide in the zone. That Asoluka has shown quality in his role modeling effort. That he has been able to mentor youths for greater future responsibilities.
This sets him apart. Bringing out the best in the young ones for tomorrow's sake has been his mantra. Again, that Asoluka was able to discharge assigned responsibilities as finance commissioner in the state – Okwuruoha was cited for empowering widows, destitute and rural women through his annual charity party for persons in these states of life. Despite his education and height in the society this man was seen to be in touch with his local community.
Hon. Sam Daddy Anyanwu, has his tenure as Ikeduru Local Government Chairman as his albatross. The beer parlor board, found him guilty of only refurbishing a block of public toilet while in office. That his role in propelling and solidifying the Owelle regime and undermining the aspiration of his party the PDP in the state makes him a suspect aspirant.
Another aspirant who was not spared is Barr. (Mrs) Ugochi Nnanna Okoro, though she is of the APC extraction, the panelists believe she has nothing to give, except flashy face and plumage. Her fellow traveller in APC Hon. Onyeagocha, it was noted would have been an interesting candidate if not for his party.
Nwandaa, Ernest Ibejiakor, was said to be all talks and sounds while in the House of Representatives and nothing concrete. He was just a show man pandering to female songs and gaiety that he has to become a servant to his mate at the House of Reps. A man who could carry plates and cups for his mate cannot represent Owerri in the senate, for the red chambers is not a tea-party. Before dropping the one for the road, the panel agreed that if given a chance, a quality voice for Owerri zone could be heard again if Chris Asoluka is given the nod. Their fear is the perennial intrigues that go with PDP primaries. The Panel here rose to convene another day.
-Akachi Okonkwo in Owerri
Disclaimer:

"The views/contents expressed in this article are the sole responsibility of the author(s) and do not necessarily reflect those of The Nigerian Voice. The Nigerian Voice will not be responsible or liable for any inaccurate or incorrect statements contained in this article."