Aregbesola applauds Osun people, Nigerians during his inauguration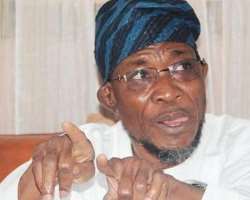 Osun state governor, Rauf Aregbesola, has said that Nigerians have demonstrated capacity to stand by and support any government that is committed to their welfare.
The governor said this yesterday while expressing gratitude for what he called "an impressive turnout" at the Thursday swearing in ceremony at the Osogbo Township Stadium, said the people, with their massive turnout, made an impactful statement of affirmation that the governor they voted for on August 9 this year was the one being inaugurated.
In a statement by the Director, Bureau of Communication and Strategy, Office of the Governor, Mr. Semiu Okanlawon, Aregbesola was quoted as saying that he was highly appreciative of those who made the inauguration a huge success.
According to the statement, the governor said he was elated to see national and state leaders of the party, members from across the country as well as well wishers from all walks of life.
The governor noted that he was impressed by the conduct of the huge crowd, who came out to make the ceremony a memorable one.
'I wish to express my joy and appreciation to all who blessed us with their presence at the inauguration of our second term in office: artisans, market women and men, professional bodies, associations, corporate organization, members of the diplomatic community, traditional rulers, religious leaders and religious organizations up to national leaders of our party. Words are not enough to express our appreciation.
'That crowd could only be interpreted to mean one thing: That the outcome of the August 9 governorship election was the true reflection of the wishes of our people and a complete triumph of the wishes of the people.
'It is a demonstration of the fact that our government in its first four years, worked with the people and changed their conditions as never witnessed before our advent. We are therefore committed to doing more," the statement said.