Oritsefemi's Management: MSN Gang, Avatar Declare Alex Ozone Wanted For Fraud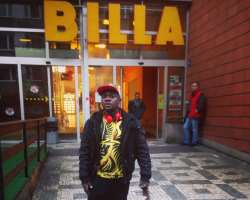 Money Stops Nonsense Gang, and Avatar, the companies that recently signed Oritsefemi Ekele Majemite have declared former Terry G manager, Alex Ozone wanted for fraud.
According to the Media Manager to MSN Gang, Avatar Management, Tijani Adegbola, Alex Ozone paraded himself as the manager of the artiste and defrauded musical promoters in Europe: France, Germany etc with a lot of Euros he collected from the entertainment outfits claimed he is the manager of the artiste.
"As we speak, Alex Ozone took our passports away. He vowed he would take them to the embassy for Visas. Suddenly, he dumped them somewhere that we could not even locate till date. He later submitted our artiste passport alongside his own claimed he is the manager to the artiste at the French embassy in Lagos. This didn't clear to the team until the management requested for the items he took. One of the staffs working at the embassy revealed that he claimed he is the manager to the artiste that was why he was given visa. Till date MSN Gang and Avatar don't know where he dumped those passports he took away.
More so, the promoters' abroad later called MSN Gangs lines in Nigeria revealed that we should safe their images that Ozone has collected huge amount of money from them and later found out that he never gave any money to the management.
After all these illicit deals, the management found out that this has dented Oritsefemi's images in Europe. And Ozone was telling the whole world that the artiste and his management have collected huge amount of money from him without traveling to perform abroad", Tijani Adegbola said.
As you are reading this, the passports he absconded with have been reported to the IGP, Abuja. Till now, Mr Alex Ozone is nowhere to be found.
The management however released an official statement that All shows both local and international that is not approved by management AVATAR, MSN Gang is not genuine and Oritse Femi will not partake in any performance anywhere. So we urge you all to be careful of fraudulent local and international managers who impersonate just to scam clients all in the name of Oritse Femi.
Disclaimer:

"The views/contents expressed in this article are the sole responsibility of the author(s) and do not necessarily reflect those of The Nigerian Voice. The Nigerian Voice will not be responsible or liable for any inaccurate or incorrect statements contained in this article."