Arik Air increases frequency on Enugu, Benin, Calabar, other routes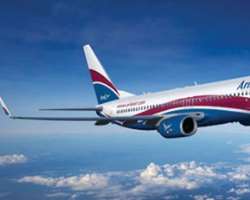 Nigeria's largest domestic carrier, Arik Air has released its 2014 winter schedule with increased capacity in key domestic routes to cope with passengers' demands and give travellers more options for same day return trips.
The new schedule, which came into effect on November 17, 2014 saw an increase in the frequency of flights on the Lagos-Calabar, Lagos-Enugu, Lagos-Benin, Abuja-Benin, Lagos-Kano, Abuja-Kano, Abuja-Asaba and Abuja-Ibadan routes.
The frequency on the Lagos-Calabar and Lagos-Enugu routes have been increased from daily (seven weekly) to double daily (14 weekly) while Lagos-Benin has been increased from 14 weekly (double daily) to 20 frequencies (three times daily and twice on Saturdays).
Similarly, the Abuja-Benin flight frequency has been increased from daily (seven weekly) to 13 weekly (i.e. two daily and one on Saturdays). Abuja-Ibadan, Abuja-Kano, Abuja-Asaba and Lagos-Kano services now operate daily. With the new winter schedule, the days of operation for the Lagos-Luanda service has now been changed to Tuesdays, Thursdays, and Saturdays. This flight was hitherto operated on Mondays, Wednesdays and Fridays.
Commenting on the new schedule, Arik Air's Managing Director/Executive Vice President, Mr. Chris Ndulue said, 'There is an increasing demand from our guests on our domestic routes. Arik Air is committed to providing all of its guests with a range of flights at suitable times. We have identified and delivered on the demands and are continuously reviewing our route network to offer increased convenience and seamless connections.' - Thisday.