New Movie Alert: Judith Audu's Short Film 'NOT RIGHT'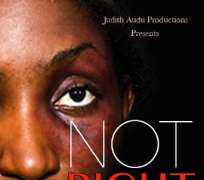 The International 16 Days of Activism Against Gender Violence started on the 25th of November (International Day for Elimination of Violence against Women) to 10th of December (Human Rights Day), an annual campaign to raise awareness about gender based violence.
We are making our highly acclaimed Short Film 'Not Right' based on Domestic Violence available online for free to donate our quota in educating and enlightening people that this has to stop, it is Not Right to result to violence when you have issues but rather learn to communicate with each other.
Any act of violence against not just women and girls but also men and boys is wrong, unacceptable and shouldn't be tolerated.
YouTube Link:

Synopsis
'NOT RIGHT' is a short film on Domestic Violence written and produced by Judith Audu. The story throws light on how deep the domestic violence menace has eaten into our society and emphasizes the need for women to speak up and refuse to allow themselves to be put through the agony.
There are two families in this short film. While one's home is filled with love, the other battles on how to live in peace with her husband that is always battering her.
It is tells the story of consistent denial of violence by Kunnbi (Omowunmi Dada) and how a concerned couple Tade (Ani Iyoho) and Funmi (Judith Audu) tried helping their neighbour Kumbi to seek help from her abusive husband Kola (Philip Festus).
Directed by Uduak-Ubong Patrick, Starring Omowunmi Dada, Ani Iyoho, Philip Festus and Judith Audu, Make up by Dorothea Kwofie, DOP Segun Fayo Festus. This short film shows the flat refusal of a victim of domestic violence to accept her reality, seek help as her neighbors kept on advising and the repercussion of her insistence on saving her face from a society which would rather have women suffer in silence.
ANI IYOHO AND JUDITH AUDU
DOROTHEA AND PHILIP
DOROTHEA DOING HER JOB
ENTIRE CAST N CREW
JUDITH AUDU AND DOROTHEA KWOFIE
JUDITH AUDU AND UDUAL O. PATRICK
NOT RIGHT3
OMOWUNMI DADA 2
OMOWUNMI DADA AS KUMBI
OMOWUNMI DADA
UDUAK, FAYO AND JUDITH