Snakes From Stella Oduah's Undeveloped Properties Invade Felix Duker's House [Pictures]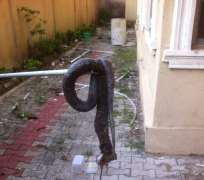 If urgent steps are not taken by the Lagos State government, dangers may be let loose in an area in Lekki, a choice area of the aquatic state.
This is because a property believed to be owned by former Aviation Minister, Stella Oduah, in the area has reportedly become a haven of dangerous animals like snakes.
Within a month, top Nollywood producer, Fidelis Duker, who has a property in the area, has had the cause to his three dogs to a vet doctor for medical attention. It was gathered that the dogs had fierce battle with three cobras that allegedly came from Oduah's abandoned property raring the snakes.
Duker went to his social media to narrate his ordeal.
According to him, the snakes came from an empty land beside his house at Lekki, which belongs to former minister.
He posted, "Another Cobra killed in one month by my 3 dogs.......God I thank you for protecting my household."
He was advised by his friends to ensure he clears the environment or relocate from the area to avoid danger.
"Fidelis dear, check out d surrounding. It's unkempt. Snakes don't just appear in people's houses from nowhere. I've been wondering how 3 gigantic snakes could have bn killed in a residential building with kids running around. That's so unbelievably scary. I hate these cursed reptiles (SNAKES?) OMG. Could they be spiritual snakes?" one of his friends said.
"Pls employ someone to clear up d grasses every week. D house is interlocked, where do d snakes come from? This must be spiritual. Pls move out of there dear Friend. If they keep appearing. Binding & casting things, on my mind. Holy Ghost !!!" another said.
Reacting, Duker said, "thanks franca, the next plot to my house is underdeveloped and fenced with the place full of grass. then the former aviation minister has 5 undeveloped plots in front of my house that has been abandoned. but it is well as i will relocate soon"
"my brother its lekki ooo. will i clear 5 plots of land belonging to stella oduah......thanks for your concern."