Finally, D'Banj Reacts To Debt Scandal Rumour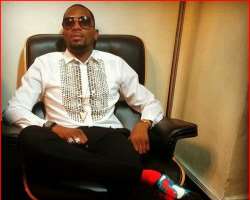 Self-acclaimed 'Koko Master' and businessman, Dapo Daniel Oyebanjo, better known as D'Banj, who recently bagged a multi millionaire endorsement deal with international company, has rubbished recent allegations that he is in a multiple debt mess.
The multiple award-winning entertainer, who also plays the harmonica, took to his Twitter page to react to the allegations.
Since last weekend, there have been reports alleging the singer of being indebted to a company. He was accused of owning the outfit several millions of Naira.
Reacting to the reports, D'Banj wrote, "Silence. Here is my response to the false rumours, with a link to the newly released music video of Oritsefemi's 'Double Wahala Part 2'."
According to the reports, the company decided to drag the singer to court after he allegedly failed to pay up the debt.
Last weekend, reports went viral claiming D'Banj, through his company, D Kings Media Limited, obtained a loan of over N60million from MindHub Technologies sometimes in January 2013.
The company, through its counsel, claimed D'Banj fooled them when he presented a dud cheque to them after he was asked to pay up his alleged debt.
Part of the letter written to D'Banj through the company's solicitors reads;
"We act as Solicitors to MINDHUB TECHNOLOGIES LTD (hereinafter called "OUR CLIENT"), and on whose instruction we write you this letter in the manner stated hereunder.
"It is our brief that sometime in January 2013 in Lagos, you signed a Personal Guarantee/Memorandum of Undertaking with our client wherein you agreed/undertook to pay our client the investment fund of N100,000,000.00k (One Hundred Million Naira Only) given to D KINGS MEDIA LIMITED by our client, should the latter default in payment of the debt. The said debt is made up of Nigerian and United States of America's currencies," the letter disclosed.
"Following the default by D KINGS MEDIA LIMITED to pay the debt to our client, and pursuant to the aforementioned personal Guarantee/Memorandum of Undertaking, you issued two post-dated cheques; one for the sum of $240,000,000 (Two Hundred and Forty Thousand United States Dollars Only) dated 20/12/2013, and the other for the sum of N15,000,000,00k (Fifteen Million Naira Only) dated 20/1/2014. Both cheques were returned unpaid on presentation by our client.
"We are further informed that although you thereafter paid the sum of N8, 600,00.00K ( Eight Million, Six Hundred Thousand Naira Only) out of the N15,000,000,00k (Fifteen Million Naira Only) Cheque, leaving a balance sum of N6,400.000.00k (Six Million, Four Hundred Thousand Naira Only), you have failed, neglected or refused to redeem the entire or any part of the $240,000.00 (Two Hundred and Forty Thousand United State Dollars) cheque," the letter signed by one Mrs C1 Ugwuanyi stressed.
"In the circumstance, we have our client's instruction to demand payment of the aforementioned outstanding sums/debts of $240,000.00 (Two Hundred and Forty Thousand United States Dollars) and N6, 400.000.00k (Six Million, Four Hundred Thousand Naira Only) respectively to our client through this Law office within seven days from the date of receipt of this letter."
© 2014Nollywoodgists.com