Challenges Of Life (3)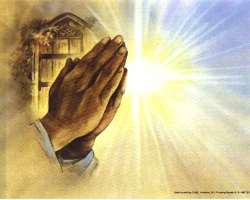 There are others in the bible that also dismantled seen and unseen oppositions, broke barriers and dislocated their enemies through fasting. Yet others through it upturned decrees and sentences, saved themselves, their families and in some cases the entire race from extermination.
Or what do you say about Esther who declared the three days fast that eventually saved the already condemned millions of Jews in Media and Persia and also consumed their archenemy? The Master Himself said that there are some authorities you cannot exercise without fasting and prayer. True! This will be a subject for another day.
Fasting (with enough prayer) will change even the unchangeable. It is one of the divine instruments that I called the spiritual dynamos in my book Power of Midnight Prayer.

Also look at this collection of divine warriors: Moses, Elijah, Daniel, Paul and even our Lord Jesus Christ. Fasting played very prominent role in their actualization of their divine mandates and destabilization of their enemies. But I must quickly add that you do this with caution. If you are sick don't fast.
If you have stomach ulcer please don't fast. And also make sure that you drink enough water when you fast. This advice is very important because some ignorant people have killed themselves instead of achieving their desired aims of going through this beautiful spiritual exercise. This is unfortunate! Hope you're listening?
Have you fasted concerning that situation? Have you sought the face of God? Or you are going about complaining, looking for help where there is none? There is no help outside God. There is no genuine, durable help outside Jesus Christ. If you put your trust in man, he will fail you. If you trust in Satan and his hosts of demons and agents, you will obtain a dubious solution that will at the end consume you.
Remember he has no free or genuine solutions. Are you listening? Do not go down to Egypt for help. If you do, you will surely regret it. Yes, surely! As the whole Judah gathered in the presence of God, King Jehoshaphat began to pray. And I think this is one of the most comprehensive, powerful and most effective prayers I have seen in the bible. I say it again; I love this man called Jehoshaphat. Just listen, "Jehoshaphat stood before the people of Judah and Jerusalem in front of the new courtyard at the Temple of the LORD.
He prayed, 'O LORD, God of our ancestors, you alone are the God who is in heaven. You are ruler of all the kingdoms of the earth. You are powerful and mighty; no one can stand against you! O our God, Did you not drive out those who lived in this land when your people arrived? And did you not give this land forever to the descendants of your friend Abraham? Your people settled here and built this Temple for you. They said, 'Whenever we are faced with any calamity such as war, disease, or famine, we can come to stand in your presence before this Temple where your name is honored. We can cry out to you to save us, and you will hear us and rescue us." 2 Chronicles 20:5-9.

Great! Read that prayer again. Yes, this is one of the greatest prayers I've ever read or heard. It came from a man that knew his God very well. You can indeed not go Jehoshaphat way and get disappointed. True!
Yes, that challenge you are going through now has a solution. We will begin to digging into this prayer from next week. Blessings to you!
Rev Agbo is the author of the book Power of Midnight Prayer and a minister with the Assemblies of God Nigeria. Website: http://www.authorsden.com/pastorgabrielnagbo.
Tel: 08037113283
E-mail: [email protected]
Disclaimer:

"The views/contents expressed in this article are the sole responsibility of the author(s) and do not necessarily reflect those of The Nigerian Voice. The Nigerian Voice will not be responsible or liable for any inaccurate or incorrect statements contained in this article."
Articles by Gabriel Agbo