Nigeria And Jonathan Contes Au Clair De Lune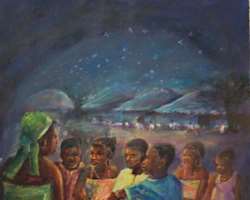 Things need not have happened to be true. Tales and adventures are the shadow truths that will endure when mere facts are dust and ashes and forgotten. Neil Gaiman
I started to pen this down on the first of April, a day generally regarded as the all fools day, and as I write I cannot but marvel at how Nigeria with each step is gradually turning into one big circus of fools as leaders. It's a harsh reality for a nation with all the potentials yet has continued to live a sorry existence.
On a sober note if fools have their day, when will Nigeria have her day, a day to celebrate nationhood, a day we can say marked the end of bad governance, government thievery and the commencement of politics of development. I hope it would not forever remain a dream. We are tired of the continued foolishness.
I detest having to insult leaders of my beloved Nigeria; I hate the vigour with which we threw spate at those in authority. However the fact is that we have never been given a better choice by the bunch that controls the state of affairs.
Contes au clair de lune is French, it simply means tales by moonlight...A tale is a recital of events or happenings; a report or revelation, a malicious story, piece of gossip, or petty complaint.
A deliberate lie; a falsehood, a narrative of real or imaginary events; a story. With every passing day Nigeria is one big tales by moonlight.
One week Jonathan dissolves the cabinet, we hail him and the next week he replaces them with same old bunch that has contributed little or nothing to national development.
In the screening exercise apart from a lack of direction from the take a bow and leave crew in the National Assembly the only point in the entire theatrics was Senator Kanti asking Dora if she cooked for Turai, and indeed like all tales only time would tell what that question was aimed at achieving.
We are still recuperating from the listless list called ministerial list and then we are informed of the plan or is it decision now to sell some of our land to Arab investors to farm and export the proceed back to their homes whatever that means.
If that was not a tale, last week Yar'adua was supposed to be at the Friday Jumat service, he had back pains and could not make it, so as part of April fools delight he was to address the National Assembly by 12noon on the 1st April and I waited till 2.00pm to be sure before a source informed me that he had sore throat and could not talk.
Same week, another tales by moonlight, a car ran into the runway straight into an Arik air plane in Calabar. It drove through the airforce gates, passed all security checks and slammed into the plane that had passengers on board. Years back it was cows on the runway in Port Harcourt. Security and airport officials are mute till date as usual any explanations would be simply tales.
Maybe soon we would hear tales of birds colliding with planes in Abuja.
We are already forgetting the tales of massive failure of Nigerian students in the yearly qualifying exams both NECO and WAEC. It's not news after all the tales did not start, the decline was long ago predicted but we and our leaders saw it as a malicious gossip that has culminated into a tale of woe.
Every passing day brings the tales about Jos into oblivion; facts gather dust and the ashes forgotten, real culprits still out there. Nothing new, it happened in Kano, Kaduna, Bauchi, Borno so what the heck?
As part of the contes au clair de lune, Ribadu has been forgiven by the FG and so the assets declaration noise has or is vanishing. Still the real issues remain hanging. Was he ever guilty of the offence?
I just want to ask why the waste of funds in the first place pursuing shadows. Did Jonathan's Patient wife Patience steal, does she have a case to answer, and does Jonathan have the will to chase the rogues into rat holes as part of our march to sanity?
Are all these just tales and how about the emerging Jonathan cabal that is supposed to confront the Yar'adua cabal? Why our afraid of dealing with the tales of, by, for and with Yar'adua? Instead we are living a false shadow rather than confront the bull and do the right thing.
My people, Ghaddafi maybe a mad man, he may lack an understanding of Nigeria, her polity, religion, ethnicity and all the geometry of our national existence but how about his message. It is not enough for a man to hate grass in his garden, he must equally work hard by cutting them down or else they will destroy the flowers.
In our democratic journey we have made progress, yes indeed we have, the only point of departure for many of us is the kind of progress we have made.
All African Games, Nigeria 2009 and yet we are being defeated in soccer by Niger Republic, struggling with Benin Republic, managing to beat Mozambique. It's all happening before our very own eyes, the tale of retrogression in sports.
My enormous respect to likes of Ikemba Nnewi but did anybody hear the tales of him supporting Iwu, a man that told tales of our election, it is only in Nigeria that failure is rewarded with so much vigour so the more you fail the higher you go.
How could I forget the tale of Atiku-move-o-cracy a moonlight tale about the movement of a philosophy and principle lacking individual from one party to another. With the new automated constitutional review being done by the National Assembly there will be nothing wrong in carpet crossing or crossing carpets. So carry on Atiku, you are only exercising your freedom of 'carpeting'.
Telling that tale of constitutional review, it would now be legitimate for an armed robber to be senate president because his crimes simply put are tales, malicious stories, pieces of gossip, or petty complaints against him.
Anyone expecting a miracle, a change from the status quo with the emergence of Jonathan, I say categorically it would be the same contes au clair de lune. Jonathan is a leaf from same tree called PDP; it's the same club, same rules and rulers.
Katsina cabal replaced by Bayelsa mafia, AC, PDP, ANPP, mega party, star party, party-party, it is the same old tale.
Do not know how true, but a friend told me that same lawyers wrote the constitution of all these political parties, so why do we have a high expectation syndrome disease?
We keep blaming Lord Lugard's hallucination for our current state, yet we forget that we have had some fifty years to solve the riddles embedded in the tale called Nigeria.
I am beginning to lose count of the number of protests, from enough is enough to Iwu must go, looking forward to the 'we must see Yar'adua' protest. There is very little to cheer, thousands of Nigerians now depend on English premiership matches, nollywood films, prayer factories amongst available options to give them an alternative tale as frustration builds up.
May God save us from ourselves!
Disclaimer:

"The views/contents expressed in this article are the sole responsibility of the author(s) and do not necessarily reflect those of The Nigerian Voice. The Nigerian Voice will not be responsible or liable for any inaccurate or incorrect statements contained in this article."
Articles by Prince Charles Dickson