UNMEER Mourns Passing Of Marcel Rudasingwa, Emergency Crisis Manager In Guinea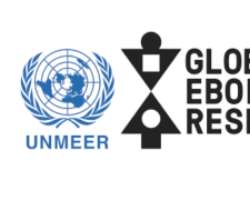 Accra, Ghana (17 November 2014) – The United Nations Mission for Ebola Emergency Response (UNMEER), today mourns the passing of Marcel Rudasingwa, Assistant Secretary- General and the Mission's Emergency Crisis Manager in Guinea.
The Secretary-General had appointed Mr. Rudasingwa, a Rwandan national, to the post on 8 October. He passed away suddenly from natural causes on Monday.
"In just a short space of time, Marcel played a pivotal role in the Organization's and the international community's response to the Ebola crisis in Guinea – he was an international civil servant of the highest order, committed to the principles of the United Nations and who, when asked about joining UNMEER, took up this important work without hesitation," said the Head of UNMEER, the Secretary-General's Special Representative, Anthony Banbury.
"We are all saddened by Marcel's untimely passing and he shall be sorely missed, both in a personal sense with his kindness and ability to make you feel instantly at ease, and in a professional sense, with the dedication and commitment he brought to his work," Mr. Banbury added. "Marcel also spoke often about his family with love and pride, and we are heart-broken at their loss."
In his role as an Emergency Crisis Manager, Mr. Rudasingwa headed UNMEER's operations in Guinea, working with its Government and key stakeholders in ensuring a rapid and effective international response to the Ebola crisis within the country.
Prior to his service with UNMEER, Mr. Rudasingwa worked with the United Nations Children's Fund (UNICEF) for almost 20 years, having served extensively in various senior management and leadership functions in Mali, Guinea, Denmark and, most recently, as the UNICEF representative in Kenya.
UNMEER expresses its deepest condolences to the family, friends and colleagues of Mr. Rudasingwa at this sad time.