As The Rain Of Relentless Rebellion And Assorted Crises Pours On President Jonathan, Could Supportive Therapy Help?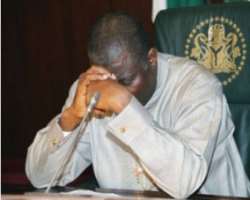 Several people have asked me about the many pressures facing the Nigerian President, Goodluck Jonathan, and if these pressures call for the need of some form of supportive and mental health therapy.
President Jonathan, have been known to have gotten spiritual or divine help from religious leaders with great property wealth, and that is very much okay if it gives the president some kind of comfort.
We will never know if the President is heavily psychologically troubled,as there has been no direct psychological contact with him. But what if in private the President is suffering from having been a victim of self-inflicted or society-induced pains, emotionally and personally,and even physically, then could therapy help?
There is the possibility that the President may be experiencing a typical form of presidential frustration like the mass Jonathan frustration(MJF), as many of his administration's actions on security and safety in particular are producing fewer and fewer results than they should.
Mr. President, should you agree to this angle of thought, in terms of special help, there is what is called psychotherapy. It focuses on mental and emotional challenges that could be coming from inner pressures due to issues like instability in the nation.
Therapy allows the individual in need to be listened to, and it makes that individual feel good to be listened to—to know that someone else cares about you and wants to assist unconditionally, and is someone who is not looking for something for himself or herself directly or indirectly.
Therapyinvolves making the individual become more self-aware of realities on ground. It allows the individual to express thoughts and feelings, as well as worries weighing on the mind in regard to many of your battles and issueslike the unending irregular power supply, pitiable accommodation, meagre transportation, poor traffic management and security challenges as well as issues of masscorruption and distrustful team members. On a deeper level, troubling the president could be unfinished pains like the issues of oil/fuel/kerosene scandals, the missing oil money, tragic death of job seekers during a government recruitment exercise, police pension theft,and the nonstop deaths from ethno-religious crises, and many other crises.
Mr. President, it could be you have talked or are talking to close friends and family members, as it is very helpful to talk about these ongoingnational problemsand their effects on you as aperson, but sometimes, we need help that the people around us aren't able to give. This is especially true when one needs extra support, an outside objective perspective, or some expert guidance, and this is when talking to a therapist becomes important.
Sir, it is unknown at this time if you have been diagnosed with a mental health problem that would benefit from therapy but what is clear is that many people in therapy seek preventive-type help,as in the case with weight of Nigeria's ongoing commotions.
As a matter of fact, in times of possible job stresses like yours, or issues of self-doubt, orduring difficult times, therapy becomes essential.
Sir, the thought of taking a pill or being prayed for to solve many of our national problems,especially when they become an issue to one's emotional/physical well-being, could come with side effects which may include other body-related ailments or external pressures for position, money, or contracts.
Sir, one could argue that your collective frustrations could be coming from swelling disappointments, competing negative factors at all times, the perception that you are not doing much, when actually the reality could be less true.
Sir, when repeated frustrations continue to drop on you, apathy sets in, personal suffering sets in, "wear and tear" sets in, and physical ailments follow and even death comes knocking. But, God forbid, we still need you around!
Sir, should you consider seeking therapy with the help of a professional therapist or certified psychologist(not a psychiatrist, whose treatment is mostly based in medicating humans); you could avoid the hidden pains of slow death.
One major consequence of not seeking therapy with the help of a professional therapist is becoming afflicted with a long physical illness. As you may know, it is rare for the leader in other countries to die in office, but not in the case of Africa where it is much more common.
Sir, the prevalence of long-standing emotional troubles or grief could affect life expectancy in Africa, especially in Nigeria which some may deny.
Sir, in the light of your recent declaration for the 2015 presidency, the ongoing and recent extraordinarily stressful events,further compound the effects of your lingering grief in regard to the nation's mounting challenges. Therefore, Mr. President, at this period of need, personal and supportive therapy for you could give some comfort.
Dr. John Egbeazien Oshodi is a Forensic, Clinical and National Psychologist and a former Secretary-General of the Nigeria Psychological Association.
Disclaimer:

"The views/contents expressed in this article are the sole responsibility of the author(s) and do not necessarily reflect those of The Nigerian Voice. The Nigerian Voice will not be responsible or liable for any inaccurate or incorrect statements contained in this article."