LGBTI Film Maker HRH Elizabeth F Obisanya, Applies To London Nollywood Film Makers Guild For Membership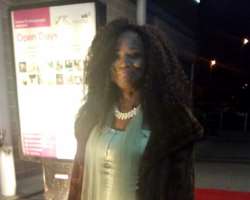 Ms. Obisanya a Nigerian born LGBTI filmmaker based in London has applied for membership at the London Nollywood Filmmakers Guild. Elizabeth Funke whose short film Magda's Lesbian Lover © which has just played at Braunschweig International Film Festival and is in the running in VIEWSTER online film festival competition http://www.viewster.com/movie/1286-18979-000/magdas-lesbian-lover/states –
"I emailed both the founding members of Guild – Mr "A." - Mr Ayodapo Oyebade & his wife soon to be Chief Mrs Theodora Oyebade stating my desire to join up . As an LGBTI filmmaker it will of course make way for other LGBTI film makers and encourage them to develop their filmmaking crafts and skills whether its writing that Oscar winning feature or even developing a film score or any other talent they have . The London Nollywood Guild is what it says LONDON and as you know there is no Anti gay Law here in the UK so I look forward to being received in the membership."
They stated that they will get back to me shortly.
Ms Obisanya was trained at Raindance film Academy , and holds a Masters in Feature film making from Goldsmiths College.(2004) she has written a series of screenplays and produced several works.
Foto Ms E.F Obisanya at a recent London Nollywood event.
VOTE4 MAGDAS LESBIAN LOVER on #VOFF4
http://www.viewster.com/movie/1286-18979-000/magdas-lesbian-lover/
VOTE FOR US simply by visiting the link above.
VOTING CLOSES ON THE 27th of Nov