The Unorganized Government Of Imo State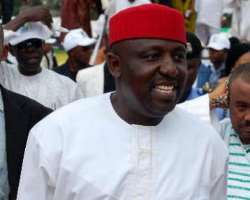 Life has taught me that the government of "the more you look the less you see," is a pseudo government that is founded upon giving and taking. This is the government of APC led by Governor Rochas Okorocha of Imo State. It is evident hitherto that Chief Okorocha's government is not serious in making sure that the high-level of unemployment that is challenging the youth of Imo state is addressed.
I feel pity for this government that is interested in building round-about than impacting positively in the life of ordinary Imolites. The negative impact of Okorocha's government is deeply felt than the positive, put aside the make believe cum adhoc programmes aimed at making Imolites believe that all is well which is the game of the government of the day.
Recently Chief Okorocha government claimed to have lifted embargo on unemployment. When I heard it, I was amazed because there was never a time there was employment exercise not to talk of lifting the embargo. The so-called youths he claimed to have employed do not have appointment letters and one's greatest dismay authoritative source revealed that both candidates with first degree and those with Masters degrees receive the same remuneration at the end of the day. It is absurd, demotivational, and unhealthy development precedence in the civil-service system.
How can a man/woman having spent 4/5 years in the higher institution of learning with its attendant challenges be placed at the same salary level with his friend who never saw the four walls of the University? It is the strangest embarrassment and topsy-turvy Imo public service has ever witnessed. There is no corporate establishment in the world where a secondary school certificate holder receives the same salary with his colleague with a bachelor's degree let alone of Master's degree. This is a high level of unorganization which is the outcome of lack of experience.
May I use this prime opportunity to remind our governor Owelle Rochas Okorocha that the Imo people of today are more learned, wiser and exposed than that of the yester-years. Gone are the days when a man will come into power and thinks he can out-smart and play with the intelligence of the totality of his subjects. A man can be fooled in some occasions, but cannot be fooled in every occasion.
The Owelle Rochas Okorocha's led government in Imo state has become cosmetic than real. Few years ago when our governor came into power he made promises to the high heavens that he will turn Imo state into a business hub of the nation by attracting foreign investors and creating an enabling environment for business to thrive. He also pleaded in opening up the entire states network of roads connecting the three senatorial zones for easy vehicular and economic movement into the state and from the state to other states of the federation. Not long after, the so-called newly built roads by governor Okorocha is now undergoing rehabilitation in different locations across the state.
This goes a long way to show the kind of contracts our governor awards to his men without concern over the quality of the job done. The reason for this article is not to criticize negatively but to bring to the front burner raging issues that is deeply affecting the general interest of the Imo populace. It is important to state here that our governor has gone far in knowledge and technology of spending the state money on personal projects. Imo people know this. A sizeable number of Imo citizens are now educated and exposed and can make brilliant assessment and comparisons and at the end arrive at a seasonable conclusion.
A situation where some projects will be announced on radio, television, etc to have been awarded with a whooping amount of money and at the end of the day, the job will either be awarded or partly done calls for much to be desired. The time has come for the good people of Imo state to rise above fear of condemnation and call a spade by its name. We will never in this generation allow a rabble-rouser to govern our state. An all knowing governor who in all times believes he alone knows how to play the game and he alone knows what to do at any point in time to bring down the house each time he addresses innocent and unsuspecting citizens of his state.
A good and exemplary leader should be one who is ready to acknowledge his deficiencies and strives to find a way aimed at correcting them. Ours is an all-knowing pontiff and a battalion Commander who knows where to press the button to score cheap political points at all time; if not how can a leader come up with a policy or project aimed at bettering the interest of the ordinary Nigerians when that project is encapsulated in treachery and unmitigated delusion beautifully tailored to achieve personal gains. Enough is enough of this white elephant projects being canvassed always in media without its tangible presence or ground.
The hour has come for the people to play the oversight function with regards to government activities and at the same time register their feelings. By so doing the government of the day will be able to know that the people's mandate freely given to them ought to be handled with every amount of commitment towards attainment to excellence.
We should be able to shower praises where necessary and condemn vices where such is truly noticed by so doing the true definition of democracy as was adduced by Abraham Lincoln the former American President as the government of the people by the people and for the people will be not only in words but theory matched with practice.
Personally i believe that any government that does not know that the mandate given to him/her by the people should be protected and guided with utmost interest, such government is not worthy to be remembered, but shall always be referred to a failed agent of his time, and as a result will be a guide and lesson to other prospective public office holders in the future.
As 2015 is just by the corner, it is my humble appeal to all good people of Imo state to rise above partisanship and vote a committed, credible, tested and trusted candidate with a track record of excellence who at all times will be ready to render selfless service with every spirit of patriotism, selflessness and excellence that generations yet unborn must have them celebrated.
With the spirit of patriotism and commitment to excellence in the service of one's fatherland, the unbridle chase for mass acquisition of wealth will only be a primitive, unwholesome, unrewarding and destructive thought that will not be encouraged. This is the time to start!
Protus Nathan Uzorma (The Reformer & Mayor of Imo Youths).
Disclaimer:

"The views/contents expressed in this article are the sole responsibility of the author(s) and do not necessarily reflect those of The Nigerian Voice. The Nigerian Voice will not be responsible or liable for any inaccurate or incorrect statements contained in this article."
Articles by Nathan Protus Uzorma