I've 125 pairs of sunglasses -Jim Iyke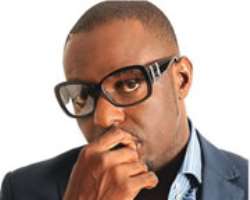 Lately, he has not been gracing many movie sets. An actor and entrepreneur, Jim Iyke, has for years, remained a constant figure in the Nigerian entertainment scene. Sometimes dubbed Nollywood's bad boy, there is no denying the fact that he is a style icon.
To him, style is simply looking good.
'Whether it is trending or not, it is important I go with the trend. I have a stylist. You always have to be on-point because someone is watching you. I like pulling the formal look,' he says.
A sunglass freak and footwear collector, he says he pays attention to his appearance and is also not crazy about brand labels. 'I am not brand crazy. The designer labels cost a lot of money but there is a healthy competition; which is why I find the fashion market very interesting. I have been to factories that make goods for Gucci. These are people working on a smaller scale and these are the ones I hire to make my clothes and they give me what I want. However, I always buy what I know I would look good in.
'I have about 125 pairs of sunglasses. I think I own about 200 pairs of shoes and sneakers and it is not something to brag about. I like shoes and I collect them. I get shoes that are much branded and are limited edition. For, me it is not just about making a fashion statement anymore, it is art,' he explains.
Having evolved from that little boy born and bred in Libreville, Gabon, whose foray into Nollywood began in 2001, he has gone on to become one of Africa's finest role interpreters. The 38-year-old actor speaks about some of the shifts his acting career has been experiencing lately:
'When you arrive at the pinnacle of a career pursuit where else do you go? I surmounted that apex long in my prime. I was the guy that made 38 films in a year! I had created the work-machine image and inevitably also made myself socially redundant. I couldn't glean at the moment of my decision till late what else that world had for me. It was a vicious circle of constant, monotonous engagement.
'Nothing was challenging anymore. It (Nollywood) was too easy, too perpetual, having travelled same circles and faced same obstacles. I also earned same bracket, produced and invested in the same suffocating projects. The secret of the constantly progressive individual is the ability to discern when to shift focus and reinvent even if it's temporarily. I took all I had, the vast contacts I had gathered, and moved into the world of business and facilitation,' he reveals.
The only son in a family of eight children, he says, he is judiciously applying all the lessons learnt through the years in his next conquest. 'The gift of life lies in being able to embrace change without fear. Everyday is a school for me. Every lesson is judiciously applied. I learnt over and again the meaning of excitement and expectations. It was all I really always wanted,' he says.
He, has, no doubt, had his fair share of bad press at the peak of his career, and is no stranger to controversies. Indeed, he reveals that he was a victim of a public-relations-machinery-gone-wrong and did have a hard time trying to erase some of the 'dirt' that trailed him during the course of his career.
'Nollywood is an industry that is synonymous with exaggerations and pen-chants. The advent of   bloggers and social media neo-practitioners, all vying to make hits and a name for themselves, irrespective of at whose expense and consequence, is another factor.
'I have trust issues and still do, but I have learnt to master the fallout of that precarious creation. I'm yet to see the relevance it serves me till this day. I have learnt to see connections in coincidences and not to take even the most trivial of occurrences for granted. I've come to embrace God's will in my life strongly, warmly with no doubt.'
The dark-skinned thespian, who naturally comes across as thick-skinned and somewhat immune to criticisms, reveals how he managed to pull through his struggles with cyber-bullies.
He says, 'My fear lied in the fact that people take these blogs seriously or interpret a red-blooded argument with another stranger that led to laughs, rather seriously. They (bloggers) painted a picture of that person to such a frequency and vividness I almost began to believe I was that person.
'I am comfortable with the fact that I needn't worry about these people anymore and their myopic views to serve their selfish purposes. I gave too much power away. I call them mental bullies. My trust circle is everything to me. It's the platform that forms my essence and the smaller they are the better. It's everything to me. It awakes desires and fulfillment in me that is unparalleled.'
No doubt, one area of the actor's life that has come under public scrutiny is his relationship with Ghanaian actress, Nadia Buari. The pair, who refers to each other as Skittles and Space, shares a bond and friendship which fans may find difficult to comprehend. Asked to speak about his lover, he says, 'She (Nadia) is a solid, down-to-earth woman. I'm a man that translates variables in ways many people find incomprehensible. We have embraced who we are and learnt to create our own world and expectations. We have ups and downs like every other couple.
'We have our strength and weakness as well. At the end of the day, rumours of break ups and make-ups ought to abound. It really doesn't matter. A relationship is a continuous work. Those that give up were perhaps not committed enough. Those that go in for the long haul suck up and square up to the variables life throws at them. The people that judge harshly are obviously the ones that live far from their desired lives. We just live the best way we know how and leave the rest to the author and finisher of all things.'
Currently charting a new frontier in water business, he speaks about his current projects. 'I recently just assumed the post of vice president, Ada Commercial Incorporated. We are in the middle of an acquisition that is mind-blowing. It is principled by my business mentor and sometimes boss, Ambassador Wendell Mackintosh of Liberia. My friend, Dr Yaw, and I are about to start a water industry branded in my name. I'm also in the throes of registering a foundation called Gladys' Foundation in honour of my late mom. There are so many things on the table. I just wake up everyday with a singular force and zeal to do the unprecedented.'
The Anambra state-born-actor, who had a brief stint in music in 2009, has his eyes set on conquering Hollywood in the near future. 'I did a movie late last year alongside Hollywood actors, Brian White and Gracie Beauvis. It's titled 'And there comes love.'
'They are a new cadre of Nigerian actors and film-maker that believe in endless possibilities. Lupita proved it. Many others will follow. As long as I visit that land constantly and I am open minded and unafraid of my potential and talent. It will happen; I will break into Hollywood as surely as there is night and day. But I also travel overseas constantly because of business demands,' he notes.
His hobbies? 'I like swimming, karaoke, beach outing but I am not much of a clubber or party-goer. I like nature exploration too,' he says. Punch