2015: Obasanjo, Atiku, Tinubu hold separate closed-door meetings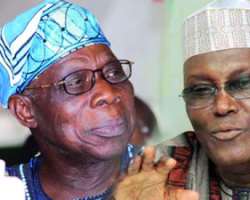 A former vice-president, and a presidential aspirant on the platform of the All Progressives Congress, Alhaji Atiku Abubakar, and a national leader of APC, former Lagos State governor Bola Tinubu, held separate meetings with a former president, Chief Olusegun Obasanjo, on Friday at his Hilltop presidential residence in Abeokuta, Ogun State.
Tinubu was first to arrive at the Hiltop for his meeting and some hours when he left, Atiku came in. Tinubu had paid such a visit early last month to Obasanjo, where he said he had come to discuss the state of the nation and seek the former president's advice on the choice of a presidential candidate for the party but on Friday's visit, he declined to grant any press interview as his convoy drove out of Obasanjo's residence around 12.30pm.
Two hours after his departure, Atiku, who had earlier paid a visit to the governor, Senator Ibikunle Amosun, arrived in a convoy, and drove into the former president's compound.
He moved into the inner chamber of the building briskly as soon as he arrived. After a closed-door meeting which lasted for about 45 minutes, he emerged from the chamber with his host, and went to another wing of the building where they had lunch.
He later emerged after 20 minutes and told journalists that he had come to pay respect to his former boss and also discuss the developments in the country with him.
'I came to pay my respect to my former boss, President Olusegun Obasanjo and we discussed the state of the nation generally. Contrary to rumours making the rounds, I enjoy an extremely cordial relationship with Obasanjo,' he said.
Atiku while reacting to the moves that the Speaker Aminu Tambuwal had also joined the APC presidential race, said 'the more the merrier, APC is a democratic party.'
The former vice-president said it was regrettable that the crisis in the Ogun State APC had deepened with Chief Olusegun Osoba said to have defected to the Social Democratic Party.
'It is regrettable and unfortunate, but I believe it is a situation that is still reconcilable. This is a situation that has been going on for some time and we have not given up,' he stated.