Singer, African China Flaunts Fresh Skin in Bathroom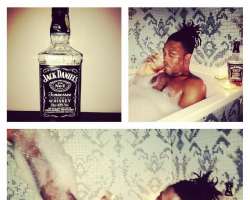 If a father can be doing this on social media, then what will the children be doing? Popular dancehall singer, African China, recently took to his social media page to display his love for drink and his fair skinned legs while having his bath.
The father of kids, displayed the skills of what his children ought to be doing while bathing. Though trying to make himself happy, but making it public on the social media and displaying the brand of his alcoholic drink which happens to be one of his favourite drink.
After posting the picture, the singer made it known that life is sweet and it is meant for the living to enjoy.
African China is known for his continuous attack of bad governance of every successive government without fear and does not mind whatever comes out of it as he sees himself as a social crusader who clamours for change through the use of music.