Senate summons Service Chiefs over Potiskum school bombing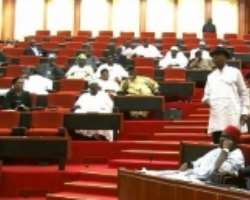 The Nigerian Senate has summoned Service Chiefs over Monday's bomb blast at the Government Technical Science College in Potiskum, Yobe State.
Issuing the summons on Wednesday, the chairman of the Senate Committee on Defence, Senator George Sekibo said that the Service Chiefs were expected to give the committee an inventory of the military hardware procured to fight the insurgents.
The summons is coming two days after the attack that had left the people of the area in fear. Over 30 persons were killed in the attack.
No group has claimed responsibility for the blast.
Schools in the area have been closed down as a result of the attack and as a measure to prevent further attacks.
Some of the children have already been buried, leaving loved ones with thoughts of why their children became victims of a senseless killing.
The government has offered no answers, but the Senate President, David Mark, said the government needed to declare total war on the Boko Haram terrorist group that has claimed responsibility for most of the attacks.
The military chiefs are expected to brief the Senate Committee on why senseless killings had continued in states under emergency rule - Adamawa, Borno and Yobe.
Senator Sekibo said the Senate was worried that members of the Boko Haram group, suspected to have carried out the Potiskum attack, were targeting schools in the north.
In less than a month, the extension of emergency rule would expire in Adamawa, Borno and Yobe States and it is not clear at the moment if President Goodluck Jonathan would ask for further extension of the emergency rule.
But what is obvious is that despite the state of emergency in the three north eastern states, killings, bombings and terrorists activities have showed no signs of abating.
The attacks have continued even after the Nigerian government said it had reached a ceasefire deal with the Boko Haram group, a truce some Elders in Borno State expressed doubts that it was reached with the right leadership of the terrorist group.