NOLLYWOOD ACTRESS, BISI IBIDAPO-OBE IN GOLD JEWELRY THEFT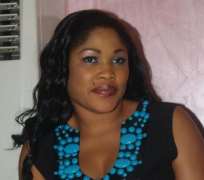 Bisi Ibidapo-Obe featured in a Yoruba flick some years back, many people believe that her character in that movie has a true reflection on her real lifestyle as she's known to live a reckless lifestyle when it comes to matters relating to man and woman.
Ever since her incursion into the esoteric movie world, Olabisi, an Ilesha, Osun State born actress cum producer has become one of the beautiful faces that adorned the four walls of the entertainment industry.
While Bisi is stepping up in her career as an actress, controversies, however, are not leaving her tail. Aside the numerous men she has alleged of sleeping with, recent scoop reveals that Bisi, sometime ago, was alleged of stealing a gold jewelry that belongs to a friend.
As the story goes, Bisi was said to have visited a friend at home and shortly after she left, a 24k gold jewelry was said to have developed wings and flew away. When they searched everywhere and they couldn't find it, someone was said to have being on her trail and the said missing jewelry was found in her custody weeks after it was declared missing.
Could this really be true? This event, though, we learnt, happened a while ago, the people who witnessed the disgraceful act, we learnt, still haven't forgiving Bisi for her major role in the missing jewelry.
Story by Michael Ewu