2015: UDUEHI SUBMITS DELTA GUBER NOMINATION FORM
.. Congratulates Jonathan for declaring for second term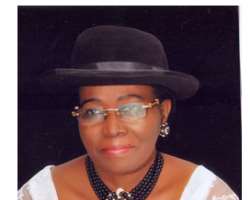 Dr. Mrs. Esther Kelicha Uduehi
ABUJA. In the build-up to the 2015 general Elections, a frontrunner for the governorship of Delta State, Dr. (Mrs.) Dame Esther Kelicha Uduehi, filed her Interest/Nomination form at PDP National Secretariat in Abuja. Dr. Uduehi was accompanied by various supporters, party leaders and stakeholders.
Addressing Journalists afterwards, she said that this was a culmination of her consultations across the twenty-five (25) local government Areas in the State and that she was going to govern for the common good. Dr. Uduehi stated that, "I am overwhelmed by the support I have received in all the three senatorial zones and it shows that the people want me there in Asaba to bring additional development to them. I promise to utilize my experience as a technocrat in the civil service, my political experience as a bridge builder in our great party since the beginning and my global corporate experience to create wealth for all Deltans, engage the youths, empower women, massively develop the infrastructures in the state, and make education and healthcare available for everyone."
The former Presidential Adviser and retired Permanent Secretary also added that the fact that she is partly from Delta North (Ukwuani) and Delta Central (Urhobo) should assuage many concerns and promised to carry all Deltans along in her government come May 29, 2015.
In a related development, she congratulated His Excellency, President Goodluck Jonathan, GCFR for accepting the widespread demand that he return for a second tenure to complete his transformation agenda. She added, "Nigerians in millions have clamored for Dr. Jonathan to return and it's a mark of how the President has greatly transformed the country, notwithstanding the many challenges facing the country at the present time."
Dr. Uduehi who has been tagged "the Esther of our time", also believes that we need Goodluck in Nigeria as no other person is more qualified to lead us now. She pledged her unalloyed support for the President and that will work arduously for his re-election.