As USA Leads In Ebola Survival Rate Yoruba Elders Refocus On Africa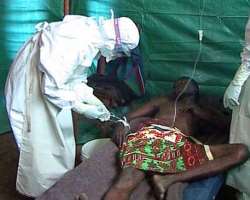 Dr. Craig Spencer the last of United States Healthcare workers that returned home sick as Ebola victim recently, was finally discharged at Bellevue Hospital in New York. More worthy is his call, echoing the call of Yoruba Elders International of Rhode Island in their workshop on November 8, 2014 that the world must refocus efforts on Liberia, Guinea and Sierra Leone without stigma. U.S has demonstrated that it can champion the rate of survival of Ebola patients.
Yoruba Elders International made the call on the 8th in Rhode Island, Dr. Spencer who was not discharged until the 11th of November, three days after the Conference, unaware of the Yoruba Elders made the same call. The election in United States politicized Ebola in Africa and returning American healthcare workers were unduly stigmatized. More media Health education is needed to combat the hysteria, stigma and myths about Ebola so that progressive effort can be in Africa.
Dr. Spencer had volunteered in Guinea to treat Ebola patients, did not infect anyone with Ebola and followed every precaution as he was not showing any symptom, vindicated the science we relied on. He took all precautions as expected by self-monitoring and reported himself as soon as his temperature was high. Ms. Kacy Hickox on her return was never sick but got detained.
Moreover, the only fatality in USA, Mr. Tom Duncan's family in the house was not infected. It further buttresses scientific empirical knowledge of Ebola transmission. During the workshop Dr. Fine the Director of Rhode Island Dept. of Health gave the prognosis of Ebola. He assured the general community and African community in particular that they are prepared to deal with any case of Ebola. Other speakers included Drs. Abia Benton, Hafees Fatunmbi and John Connor.
Before the Conference, Liberian and African communities in Rhode Island had community outreach educating people about Ebola. The Liberian communities all over United States have been disproportionally stigmatized and African countries far away from West Africa have had those who are American citizens visiting discriminated against after brief visits to Africa. One Nigerian in Connecticut had to sue in court to get his child back in school after a brief visit.
Duncan family has settled with the Dallas Hospital. Some Africans had speculated and could not understand why it was only Mr. Tom Duncan that died; and who created Ebola in the first place. There are different hypothesis out there but we must focus on science just as we asked those that have reduce transmission of Ebola to hysteria to focus on science. If Mr. Tom Duncan had health insurance, he would have been delayed for more diagnostic tests covered by insurance.
As for who created Ebola, it has been around since 1976 at the first outbreak in Zaire (Congo). There are many organisms like bacteria and virus that may survive in one species of animal and not in another. A virus may survive in monkey or bat without causing any sickness. The same virus such as Ebola would and has caused disease in man. Actually, that involves jumping from one species to another like the bird virus. But every disease does not start in Africa.
What about within man? One of the recent warnings by Center for Disease Control and many of our physicians, pharmacist and nurses is about the overuse of antibiotics. The reason for that is the fear that some bacteria might become resistant to antibiotics rendering them ineffective. It is like cockroaches that have adapted to some of our antiseptics. So we may have bacteria and viruses that have gone through genetic mutations and become resistant to drugs.
Actually in the case of viruses, there are not that many drugs like there are for bacteria cures. In the case of Ebola, we found out in Nigeria that old fashion public health investigation, contact tracing, electrolytes and pain killers help fish out susceptible and infected people for treatment. We put out Nigeria as an example of how it could be done in United States. If Ebola could be stopped in Nigeria, it could and it has stopped in United States. But Liberia, Sierra Leone and Guinea were different. They were just recovering from wars, famine and unstable governments.
The development of diseases happen within our bodies, without outsiders poisoning us as some speculated, by the disturbance of flora balance. The simplest way to explain it is to build on the overuse of antibiotic mentioned earlier. Take our mouth or other cavities within our bodies as examples. Each of them has different bacteria and fungi that live symbiotically. It is a mutually beneficial relationship until antibiotic kills off a group leaving the others. It may cause disease.
This is by far not a justification to exculpate anyone. We already have evidence of past injustice but we must be very careful not to accuse everyone for the criminal behavior of a few. We have to base any evidence we have on facts that are reasonable to most objective parties in the same situation. Labels can be very explosive and may discourage the people that are committed in life to serve and help. It may also instigate ignorant people that attack dedicated workers.
Some of us saw healthcare workers trying to take people to the hospitals or picking up the dead from the street being attacked. These are bad messages. If we can attack our own people, the foreigners coming to our communities are discouraged for fear of being attacked too. There are enough problems and stigma in foreign communities that may discourage them from coming. If we put all these together, it may become difficult to be our brothers' keepers.
After listening to the Sierra Leone Deputy Minister of Health Dr. Abubarka on BBC, many were impressed. We started out late helping Liberia, Sierra Leone and Guinea but African countries must and have been helping with the full cooperation of international communities. Doctors Without Borders has always been reliable and they are well experience in the field. Africans must welcome and help international community help themselves. We must lead with our boots on the ground.
Disclaimer:

"The views/contents expressed in this article are the sole responsibility of the author(s) and do not necessarily reflect those of The Nigerian Voice. The Nigerian Voice will not be responsible or liable for any inaccurate or incorrect statements contained in this article."
Articles by Farouk Martins Aresa