INEC suspends plan to create new polling units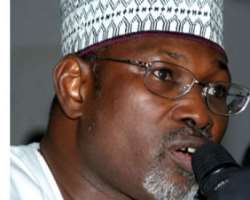 The Independent National Electoral Commission (INEC) has bowed to public pressure by suspending the controversial creation of 30,000 polling units until after the 2015 general elections.
The commission, however, said it would continue with the use of voting points, where necessary, to mitigate the effects of population pressure in polling units during the forthcoming elections. INEC also said it would relocate polling units from unsuitable locations.
INEC had in August said it would create additional 30,000 polling units for the 2015 general elections. But various groups, including the Ohanaeze Ndigbo, criticised the plan, saying it was against the interest of the South-East.
But a terse statement issued on Tuesday night in Abuja by the INEC Secretary Mrs. Augusta Ogakwu, said the commission would 'as much as possible ensure that polling units are located in enclosures such as classrooms, rather than in open spaces.'
She said, 'The commission met today (yesterday) November 11, 2014, and reviewed reports sent in from states by the Resident Electoral Commissioners on reconfiguration of the polling unit structure and creation of additional polling units.
'Taking everything into consideration - especially the controversy over creation of additional polling units that has been overheating the polity and the apparent inadequacy of time for the exercise, the commission took a decision to suspend the exercise until after the 2015 general elections.'
Meanwhile, INEC has advised residents of the seven states where the Continuous Voter Registration is ongoing and who have not got their permanent voter cards, to first check the register and ascertain whether or not their names are already on it.
The commission said the CVR was aimed at accommodating eligible persons presently not on the biometric register of voters.
The CVR will commence today (Wednesday) in Kano, Edo, Plateau, Ogun, Imo, Lagos and Adamawa States.
The Chief Press Secretary to the INEC Chairman, Mr. Kayode Idowu, in a statement issued on Tuesday in Abuja, however, stated that 'if they are on the register, they need not present themselves for the CVR - even if they have not obtained their PVCs.'
He said, 'The way to check if they are on the register of voters is simply to send an SMS to dedicated lines. Alternatively, someone doing the checking could preface the short message. The interrogator will get an instant response giving his/her full profile on the register and the polling unit number if the person is actually on the register; or an advice to the contrary, if the person is not.
'If a person is on the register and has not been able to obtain his/her PVC, he/she should go to the relevant local government office of INEC, where distribution of the cards will continue daily till the end of January 2015.'
According to INEC, only those who the SMS service shows are not on the register need to present themselves for CVR, in addition to persons who are registering for the first time. - Punch.