New price for domestic gas takes effect January 1, 2015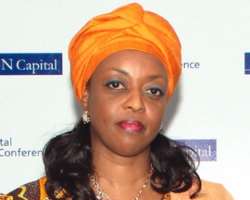 The price for domestic gas used for power generation, which was recently increased from $1.5 per thousand cubic feet (MCF) to $2.5 per MCF will take effect from January 1, 2015, THISDAY's investigation has revealed.
In what it described as a 'pragmatic and creative' short term approach to address the issue of inadequate gas supply to thermal generation plants across the country, the Nigerian Electricity Regulatory Commission (NERC) had approved a new gas-to-power pricing benchmark of $2.50/mcf and $0.80/mcf as transportation costs for new capacity.
The benchmark, according to the Minister of Petroleum Resources, Mrs. Diezani Alison-Madueke, would equally increase with the United States annual inflation statistics.
Following the announcement, concern was raised that electricity tariff would also increase by about 40 per cent as power producers would now pay higher price for gas used in electricity generation.
Though the new pricing and other measures from which the government expected to ramp up grid power generation by at least 5,000 megawatts (MW) within four months, were expected to take off immediately, THISDAY gathered that power producers were yet to pay the new price two months after it was approved.
The Group Executive Director (GED) in charge of Gas and Power at the Nigerian National Petroleum Corporation (NNPC), Dr. David Ige, told THISDAY at the weekend that the new price would take effect from January 1, 2015.
Ige did not, however, disclose why the new price was yet to be implemented but the Chief Executive Officer of Frontier Oil Limited, operator of Uquo Marginal Field, first marginal gas field in Nigeria, Mr. Dada Thomas told THISDAY at the weekend that gas business was a complex one.
According to him, gas sales contracts are long term of about 10 to 15 years, with a starting price and a price escalation formula.
'The new price prescribed by the Honourable Minister of Petroleum can only come into effect for new contracts or by mutual agreement of the two parties to an existing contract. It will therefore, take time for it to be felt in the market,' Thomas said.
Local and foreign companies involved in gas production in Nigeria have always shown preference for export gas because of the high price.
To encourage investment in domestic gas, the price of gas-to- power was earlier increased from $0.5 cents per mcf to $1 in 2010.
It was further increased to $1.50 by 2011; $2 by the end of 2013, and $2.5 in 2014.
But the gas producers are clamouring for $5 to $7 to make the domestic price to be at par with the Henry Hub price in the United States.
'The current increase from $1.5 to $2.5 per thousand standard cubic feet is very good but we are not yet near where we ought to be. We are still well below world market price. What it means for us is that it is encouraging that slowly, instead of digging ourselves into 50 feet grave, may be, we are in a 23 feet grave and with time, things will change that will allow our project to become totally economic. We need to get gas pricing domestically as attractive as may be, Henry Hub in the United States; I am not saying as in Korea because in Korea, that is the highest gas price paid in the entire world. Henry Hub is about $5, $6 or $7 right now in the United States and that is in spite of Shale gas. We need to get gas pricing moving in that region in Nigeria for you to have absolutely no reason to beg anybody to invest in gas. They will invest so much in gas; you will have so much gas that we won't know what to do with it. This current price of $2.5 per thousand standard cubic feet is nice but is not going to have people screaming to invest in gas,' Thomas had argued.
The government, in a recent inter-ministerial press briefing involving the ministries of petroleum resources, power, NERC, Central Bank of Nigeria (CBN), Nigerian National Petroleum Corporation (NNPC), said collective effort was being made to find a lasting solution to shortages in gas supply to power plants in the country. Thisday