Iyanya Loses Only Brother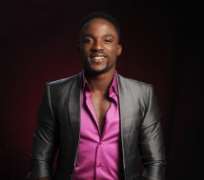 Singer Iyanya lost his elder brother and only sibling yesterday – and he has remained inconsolable.
The 24 year-old Project Fame winner who has been in Calabar for weeks, spending time with his mom and his brother broke down yesterday after his brother Onoyom (who was a paraplegic) gave up the ghost.
Onoyom Onoyom Mbuk, Iyanya's late brother was born in 1982. Sources say he had a terrible accident in 1985, at age three, and became incapacitated. "He had been sick for a long, long time. He never really enjoyed himself" a source close to the family told NET.
Onoyom died in the early hours of Thursday March 25 at the Teaching Hospital, Calabar in Cross Rivers State.
"We used to call him Don Alpacino", Iyanya told us yesterday. "He had an accident when he was three years, and we've been believing God for a miracle all these while".
"He complained days ago that he couldn't breathe. And we rushed him to the hospital where he gave up".
"It's just so sad to lose someone you love dearly. I'll remember him all my life", Iyanya said.
The late Onoyom will be buried tomorrow.
Story by nollywoodgists.com