My first sex experience – Biodun Okeowo …says 'I married as a virgin'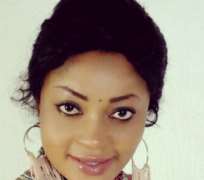 Sultry and sexy Yoruba actress, Biodun Okeowo known in the industry as Tolani Oshirin is without doubts one of the hottest and most talented Yoruba-speaking actresses on the scene right now. With eight movies of her own and having featured in close to fifty of others, Biodun is certainly a face to reckon with in the Yoruba sector.
In this interview with Showtime Celebrity, Biodun bares her mind on her person, career, family and even some secrets she had never before revealed.
By ADERONKE ADEYERI
Why did you choose to be a vegetarian?
I have been a vegetarian for many years now and the reason is not far-fetched. I have the tendency to be overweight, so I'm seriously checking it in order not to lose my figure-eight shape.
Which parts of your body do you think are your selling points? …
Well, I will say my hips and eyeballs. God has blessed me with what African men really like. Even the modern day African man who pretends to like a skinny woman, after getting down with her, he would marry a woman who has ample flesh in the right proportions.
As a learned person, why have you never featured in English-speaking movies?
I've not gotten a script from that sector yet. Besides, I have my own films to produce too and ever since I started, I have never had reasons to invite an English actor or actress too, so it is a two-way thing.
How have you been coping, as a single mother with two kids?
It's one question I don't like going deep into for personal reasons. I will only say God has been faithful. I'm fine and cool as you can see. I am a happy woman in all ramifications and the envy of other ladies.
Any plan of getting married?
I'm yet to get one and would not like to say much about that.
Has there been any particular role you refused?
Yes, not even one. I've rejected many scripts in the past and will continue to reject many other scripts.
Why do you do that?
I reject scripts or roles when they seem sub-standard or not well-baked. Biodun Okeowo would not want to soil her integrity or disappoint her fans.
Did your parents especially, your father being a pastor, object to your chosen career?
Not really, my dad was an actor before he became a Prophet. So, he did not object to it but my mother was afraid because many people told her that I would have to go diabolical to make it in the industry. Also, the fear of losing me, her simple and God-fearing daughter to some worldly things made her object. But later I was able to convince her that all I needed was her prayers. And being a prayer warrior, God answered her prayers and the rest is history.
Would you say your chosen
career was the reason for your failed marriage?
We are pencils in the hand of the creator, he knows and directs our lives. My career has got nothing to do with that.
What lessons did you learn from your previous marriage?
My broken marriage was a place of learning to me. It taught me to be a better person and has opened a hidden part of me. Then I was younger but I have learnt that what will be will be, no matter what.
Would you say he was at fault?
Fault, who am I to apportion blames or Judge? God knows best. I thank God we are both doing well in our respective homes.
Any plans of marrying again?
Presently, I'll like to remain mute on my marital status but the glaring truth is that I'm not single.
What do you mean by saying you are not single?
It simply means I have a man in my life. But what I am not ready to disclose are details about him. I am not single because I am with a man. Please don't ask me any further question on this. I am a very happy woman in love with a man in my life.
At this stage in your life, would you consider being a second wife?
I won't break someone else's home because I don't want mine to be broken as well. But then man proposes and God disposes. No one can decide for God. We can only pray fervently for our wishes. But one thing I don't joke with is my happiness.
What do you have to say about pre-marital sex among our youths?
It is saddening that pre-marital sex has taken over our time. In the past, most of our men would disassociate themselves with girls who have been deflowered outside wedlock. Then a woman's virginity was her pride but time has changed and human beings have changed. I am not happy about it. Maybe we should blame civilisation or modernisation for this.   I pray for God's intervention in this era.
Did you marry as a virgin?
Yes, I did and I can boldly say that.
What was your first sex experience?
My first experience was full of fear, uncertainty, pain and alas! I loved it at the end.
How do you think your kids feel when they see their mum in sensual roles?
I have been working and thinking on that recently. My kids are growing fast and are very intelligent. For their sake, I am trying not to act dirty or rough, but at the same time I have to interpret my roles very well, especially if it is a movie I producing. I also censor the movies they watch, be it mine or other films.
Acting is make-believe and there's this general belief that saddens my heart, and that is the belief that Nollywood does not deliver sexual roles well enough in graphic details.
Our fans often forget that we are Africans, we have a culture that needs to be inculcated into our movies and that is what Biodun Okeowo is working on.
Do you agree that female actresses are making it more than their male counterparts?
I don't agree. It depends on how hardworking each individual is in the industry. But if you say female artistes are more favoured than the male artistes then I'll say you are right.
How would you rate Nollywood in comparison with other film industries around the world?
I've not really traveled far and wide to know much about other film industries but I know we've improved greatly.
What do you want to be known for?
I want to be known for my humility and my down-to-earth nature.
Which fashion item would you say is indispensible to you?
Earrings.
What is your favorite colour?
Pink and lemon green. I love these colours to a fault.
Have you ever regretted being part of any movie?
Yes, years back when I was still a novice in the industry. I did some wishy-washy jobs because I grabbed every job that came my way. Unfortunately for me those jobs didn't come out until I have already become an established actress in the business.
Some of these films were so bad that most of my fans thought I didn't measure up to standard. I nearly lost many of them but they didn't know I did those films when I was still green in the industry. But I quickly retraced my steps and in the process, I offended some producers.
How do you relate with male fans?
Well, as a public figure, I try as much as possible to be calm and respectful but some men can be annoying.
Annoying? How?
Some can go as far as taking a bet on you, staking a bet that they could get you or do things to you. And when they must have taken this bet they can go to any length to get down with you, all in the bid to win a bet or prove to their friends they could get you. But when you are wise and didn't fall for their money or material things, you become their enemy. They label you all sorts of names and they would do everything in their power to run you down. This could be very annoying and could make one to get rude sometimes.
Considering some roles you play, have your children ever been embarrassed?
No, all I've always heard from my kids are nice comments. Most times they compliment my beauty on screen and openly tell me they love my movies. I am very grateful to God for giving me those kids. They are my strength.
What is the worst thing ever written about you?
I guess that was when one unpopular magazine wrote that I was owing Iyabo Ojo some money when I never owed her any money. I hardly buy things on credit instead I would rather deposit some money and wait until the payment is made. So, the story was rather amusing to me because that is something I don't do. But honestly, false and scandalous stories don't bother me because when I decided to pick this job I knew such things would be writen about me. Everyday, something, true or false must be writen about a known person. And over time I have grown to love being talked about.
The secret is to read and flip aside the unwholesome ones and carry on with your normal life. And if it is too detrimental to your career then you can seek redress in the court of law.
How many movies have you produced, and which do you consider the best?
I have done eight movies to date. Though my best is still to come but if I have to pick one very close to my heart, it would be my latest film, Ore.
Our society does not support single motherhood. How do you cope with the stigma of being a single mother?
(Smiles) I only know my status. I only know who I am. (smiles) for Biodun, she's the happiest woman on earth. I am comfortable and happy in all ways. No stigma for me.
What is new about Biodun Okeowo?
My fans should watch out for 'Instagram Babe' to be marketed by Corporate pictures. I love my fans and my God will continue to bless them. Vanguard