DEGEMA/BONNY FEDERAL CONSTITUENCY: HON. AYE PEPPLE BRINGS VALUE, QUALITY AND INTEGRITY TO THE RAC
…AS HE PICKS EXPRESSION OF INTEREST FORM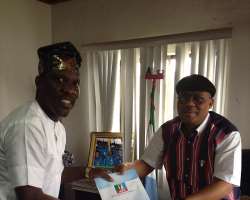 The Rivers state House of Assembly member representing Bonny constituency, Hon Aye Atamah Pepple's decision to enter the race for Degema/Bonny Federal Constituency is said to have brought in value, quality and unblemished integrity into the contest.
This was staked assertion of a cross section of supporters, dignitaries among others who accompanied the lawmaker to the All Progressive Congress State Secretariat to pick the Expression of Interest form for the Degema/Bonny Federal Constituency on Friday.
Consequent upon the achievements of the lawmaker via strings of people and development oriented projects executed in Bonny and beyond, Hon. Aye Atamah Pepple was unanimously given the nod by the Rivers state APC to contest as the sole candidate of the All Progressive Congress for Degema/Bonny Federal Constituency.
Furthermore, as a demonstration of the value placed on the Bonny lawmaker, Chairman of the All Progressive Congress in Rivers state, Chief Dr. Ibiamu Ikanya was on hand to witness and relish moment as the historic event played out amidst pomp and pageantry.
Speaking briefly to newsmen, the lawmaker said his decision to enter the race was to consolidate on the successes achieved as a state lawmaker, and fashion out ways to provide better mote opportunities for the people in this higher calling. According to him the Federal House of Representative will afford him the opportunity to express leadership in a wider perspective and provide greater openings for the people to benefit the things of government.
"Our word has always remained our bond; we have demonstrated our sincerity of purpose even as a state lawmaker and have proven to our people that if given opportunity to serve in a higher office we have the integrity and ability to do better to attract more development".