I've Been A Victim Of Sexual Harassment –Titi Osinowo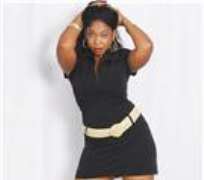 Sultry damsel and fast rising Nollywood actress, Titi Osinowo, is passionate about the make-believe world despite the hurdles in the industry. However, the talented actress, who hails from Ogun State and made her prominence on the scene after her appearance on TV sitcom, Family Ties, recently reiterated that sexual harassment is rampant in the industry.
According to her, "I was once a victim of sexually harassment in Nollywood and those who say it doesn't exist are liars because almost all the actresses have at one time or the other been harassed by some randy producers or directors that are in the industry. It's so funny that some of these randy producers or directors are popular figures, however, there are directors and producers, who direct and produce based on your ability to interpret your roles."
Continuing, this English Language undergraduate of the Tai Solarin University of Education, stated that it's normal for men to make advances at any girl of their choice but when they make it a criterion for getting a role instead of through audition that is what is objectionable.
"It once happened to me when I was invited by a producer to play a role and on getting to the location, I was told that I must sleep in his room before getting my role and it was so annoying that I simply walked out of the location.
"A director had also asked for a sexual relationship with me in return for a role and I rejected the offer because I'm not out to cut corners. I have acted in flicks with professional directors and producers, who gave me roles without exchange for anything, so why do I need to sleep around just because I want to act?" She asked.
Titi has showed her acting skills in flicks like Halimat, The Valley Between, This Time Tomorrow, Asa, Omokehinde, Asiri Ojo kan, Itan, Family Ties, Es Aimodi, Madaru and Motaka Osi Danu.
The second child of a family of three, Titi disclosed that growing up for her was fun, though she had no time for frivolities or social life, as she and her brothers were constantly in the house.
"I'm the second child in a family of three children. I attended St. Benedicts Primary School, Abeokuta and later proceeded to Our Lady of Apostles in Ijebu Ode before getting a diploma in law from the Olabisi Onabanjo University (OOU). But at the moment I am a student of the Tai Solarin University of Education, where I am studying English language.
"Growing up was fun but was with so much discipline. My father was a strict person and my mum is the soft type, who had indulged us in few things but while growing up, we weren't allowed to mix or have so much friends like our mates, we were only left to go to school and back home," Titi said of her growing up.
Speaking on her acting skills, Titi said she has passion for the make believe world and only developed the skill gradually.
"Acting is something I am passionate about, I've got undiluted passion for the art and I developed liking it while growing up. I watched several flicks and knew I could do it and when I was 17, I had fully developed my courage to go into the acting world.
"I actually got into the industry through a very good friend of mine, Biola Thompson, who is also an actress and lives in Lagos and has encouraged me by making me go to locations with her. It was during one of these visits that I met Funke Akindele, through my friend and later met Toyin Aihmakhu, who I had known in Ibadan and that was it. Toyin started calling me up for roles after seeing some of my works and that has been my story into the world of make-believe," the dazzling actress said.
The one-time extrovert said these days, she prefers to stay indoors and this is because she wants to be viewed as a responsible actress at all times.
"I used to be an extrovert but not anymore, now I enjoy the company of my family and my niece, who is just too funny. I stay indoors with my family when I'm not on location or away in school," she said.
Story by nollywoodgists.com