Twinkle, Twinkle, Fading Stars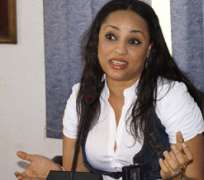 The Nigerian entertainment scene has been blessed with its fair share of wonderful and talented people who have at one time or the other mesmerised Nigerians with their remarkable talents and dazzling skills. In the two major pillars of the entertainment playground, which are the circles of music and movies, Africa's most populous country has had wonderful individuals who have thrilled audiences with their acting prowess or with their talents in music. But, like everything in life, the time came for some of them to leave the stage. Some left in a manner that is not announced or planned and they can now be referred to as stars of the past years except they are able to prove critics wrong by coming up with fresh efforts to show they are still in the game.

Eddy Remedy
Who will forget Edward Asiedu Brown, popular known as Eddy Remedy? One of the three boisterous and upward mobile young men who invaded the music industry with their big hits, 'Sakomo' and 'Judile' but probably never entertained the belief that they could establish the hip-hop culture in the country. The Remedies, as they were then known, went on to inspire a new urban music culture but later fell apart, first with Tony Tetuila leaving the group, and Eedris and Eddy later also splitting along the line for some reasons which many blame the executives at their record label for. Looking back now, one does not need a crystal ball to discover that Eddy is no more in reckoning in spite of what he or any one close to him might think and it is clear that the separation from his wife, Kenny Brown (KSB) did not help to revive a faded career and the soiled relationship with Kennis Music did more harm than good.
Slam
Slam was another Kennis Music act that was very well packaged and sold by the once foremost record label but although many would argue that he never really got off the ground in his attempt at getting to the sky of musical stardom, he made appreciable impact especially with a track featuring Pastor Goody Goddy back then. However, no one can tell what really happened to his career as a musician and he just seems forgotten as if there was never anybody by the name, Slam.
Mr Kool
With a strong background in R&B and a couple of moves that portrayed him as someone who knew what he wanted as well as how to go about it, Mr Kool was well known on the Nigerian hip-hop scene in the late 90s and early years of this century. He has become relegated to the background probably by the flurry of youths and younger competitors who are never in short supply in the music arena.
Azadus
Azadus is a former member of the FESTAC Town -based group, Def 'O' Clan, who helped powered the hit song, 'Kilonso.' Azadus can be said to be one of the major reasons why the group achieved national acclaim in the first place, with his sonorous voice as the lead in the song. This fact lies in the realisation that many years after he left, only Ruffman, Alibi and Buzzman have been able to make some impact by way of attracting meagre interest. The last to be heard about him, apart from tales concerning the shooting incident that he was unfortunate to have been involved in, was the track called 'Madam' and the accompanying video, leading to tongues wagging about what could have led to the drought of songs from Azadus who is an essential part of the glorious story
Liz Benson
By all means a Nollywood diva and pacesetter, Liz Benson became so popular doing what she knows how to do best in the early 90s down to the early part of this millennium but probably as a result of being older and wiser, she left the stage that brought her fame and fortune. The Dame of Nollywood is now very married and spends more time in the Lord's vineyard. Although many have left the stage of acting but remained relevant in other areas of the profession and generally in social circles, her manner of dropping off the scene has led to people wondering if there is more to the circumstances that made her suddenly leave the limelight for the background.
Hilda Dokubo
Reputed for her prowess at effortlessly inducing a weeping scene in movies, an act that many of the actresses of this era, apart from Nkiru Sylvanus (who has almost dropped off the arena completely also) and Mercy Johnson (the sexy actress still going strong) have not been able to master that much, Hilda was hugely popular and in demand in Nollywood until she took up an appointment with the Rivers State Government as special adviser on youth affairs in may 2003. That appointment lasted till December 2004, but the creative arts graduate of the University of Port Harcourt has not made any serious attempt at returning to her first claim to fame. She is now executive director of the Centre for Creative Arts Education, devoting more time to social activism than the thoughts of Nollywood.
Tony One Week
Not much was known about Tony One Week, at least in the public domain, before his massive 'Gyration' hit debuted on the music scene. The popularity of the song, in which he says he loves the then active but now retired Nigerian international football star, Austin Okocha, more than his mother, hit the right cord in the consciousness of Nigerians that he became a household name and went on to claim a place among the nation's finest in the then fledging comedy business. He later started running a series of weekend entertainment programmes on television featuring other comedians and a large dose of music but that was how far it went for him as he has since been relegated to the background in the scheme of events in the two areas of music and comedy.
Lillian Bach
Lillian Bola Bach is an extremely beautiful woman who stormed the scene many years ago. But that is not all about the actress cum model who is said to be more popular for her pretty face than acting talents in Nollywood circles. She is of Polish and Nigerian parentage and so visible a face in Nollywood in the few years gone by but that does not seem to be the case anymore as she has virtually disappeared from movie sets in recent time. Lillian Bach, who is a versatile and convincing actress, has featured in both English and Yoruba projects in Nollywood and was even a very popular face in soap opera but her hiatus from the scene is, at best, inexplicable, knowing she is not one of those that have had any of such issues like marriage problems or relocation from the country.
By Adedayo Odulaja , Reporter, Lagos

Tony One Week

Hilda Dokubo
Story by nollywoodgists.com