Blackface Naija launches new album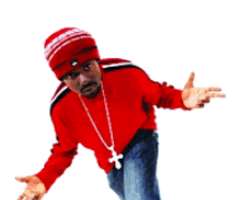 After his absence in the music scene, Augustine Ahmedu, popularly known as Blackface of the Plantashun Boiz fame, is set to storm the entertainment industry with the launch of his new album today in Lagos.
The Benue State-born musician, who returned to the country in December, after a musical tour in Europe, says the album entitled Dancehall Business features some notable artistes like Spiderman, Ruffman, Oti, Rocksteady, among others.
Blackface, who now loves to be referred to as Blackface Naija, boasted that people are going to feel some of the singles in the album, even as he added that "Nigerians know what to expect because it's got to be the next stage of Blackface Naija since they have been following me for sometime. When I came out with Ghetto Child, they were there for me, I dropped Evergreen and Jungle Fever, and they were there for me. I went to Me, Music and I, my fans were still there for me. After that, I gave a two year grace before I came out with the new album.
The chief executive officer of Loudhouz Entertainment, who said he has been in music for a decade now, explained how he discovered the multiple award winning musician, Tuface Idibia.
"I have discovered a lot of talents but it is not for me to tell you that I discovered this or that. Most of the songs that Tuface rendered were songs that I created and most of the songs that he delivered are songs that I have decided that this was the way it got to go for this artiste," he said.
He however, described Tuface as his friend and brother, stressing, "Sometimes, you are closer to your friend more than your brother. Sometimes you are closer to your neighbour than your brother because your brother is not there but your neighbour is there, and he's always asking you how you are doing."
The Rasta man who wears a new look as he now goes without his usual dreadlocks, pointed that his new look doesn't change his believe in Jah or in the teachings and projection of Emperor Haile Selasie.
"My dreadlocks are gone, I came back from Europe and couldn't stand the heat. I had to cover my head all the time. My kids never really saw me without my dreadlocks, So, I guess it's time to see what daddy looks like," he insisted.
By Leonard Okachie & Richard Eghaghe
Story by nollywoodgists.com