Gov. T.A. Orji Bribes National PDP With N5B?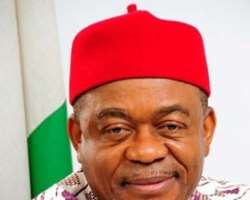 Abia State Government, Governor Theodore Orji
I pray that it is a lie that the governor of Abia State caused the problem that is about to ravage the PDP in Abia State. Recently, many Abia people both at home and in Abuja condemned the governor over what they regarded as his overbearing to implore undemocratic norms in the way of the primaries of the party in the state.
From the rumour mills, it was gathered that the governor and his followers were boastful that there was nothing that those kicking against that supposedly inglorious act would do since he has 'cleared' his way with the National Working Committee (NWC) of the PDP to accept his list of Abia delegates for the primaries with the sum of Five Billion Naira (N5B).
Despite court injunction on the matter, the governor went ahead to recognize his kangaroo delegates and has been swaggering that no Jupiter can stop him from having his way. If truly that he bribed some persons, this is obviously the same way he has been paying some hack writers and do-nothings to be insulting his predecessor on the pages of the newspapers and on online media platforms.
If the governor could hypnotize his fellow members of the PDP, it is imperative to say that Dr. Orji Uzor Kalu saw above the Iroko when he last time wrote in one of his numerous articles that, the opposition, which is a veritable pres­sure group in any democratic establishment, has been harassed and chastised in Abia State, even to the point of some fleeing the state for fear of being invective.
Kalu had added that those who summon cour­age to speak out in Abia State do so in hushed tones. There have been many instances of innocent people who were whisked away by the agents of the triumvirate for daring to criticise it or even being found close to the residence of any member of the opposition.
I'm surprised! Kalu saw and had said that what is today in Abia State is a total siege: molestation of innocent people, confiscation or demolition of properties of people they deem as adversaries, revocation of Certificates of Occupancy, seizure of duly allotted shops and lands, and other unspeak­able things, unheard of, even in the times of the military, let alone in a democratic setting as ours.
Well, Governor Orji's spell on some Abia people who were his stooges seems to be fading away. If not, who were the Senators and some gubernatorial aspirants from Abia State to have disowned the result of the ward congresses ostensibly conducted in the state, saying that there were no congresses?
If it were then, Senators Uche Chukwumerije, Nkechi Nwaogu and Enyinnninya Abaribe would not have said 'pim', let alone, in a joint appeal with other party stakeholders avowed that there were no congresses.
The erstwhile Managing Director of Diamond Bank, Dr. Alex Otti, a former Deputy Governor, Chief Eric Nwakanma, Chief Uzoma Abonta, Chief Emeka Wogu, Solomon Ogunji, Rev. G Nwambu, Emeka Atuma and Nze Esiaga were among the stakeholders who acquiesced to the petition of the serving senators.
I could remember Kalu saying that he was glad the whole world now knows who really is holding Abia people captive. Although he did not categorically say who that person was, but from all indications that person is Governor T.A Orji. Evidence is that, according to the question that Kalu had asked him: Since May 2010 (when he claimed to have been liberated) and now what has he done differently to better the lives of Abians?
Kalu had said that the governor used the liberation-of-Abia propaganda as a check to deceive the people and create an imaginary enemy in Kalu to fight. But today, I must say that Kalu is as innocent as he claims. T.A Orji knew that Kalu had never interfered with his administration since he handed over to him in May 2007.
While Governor T.A Orji is bent on fighting Kalu front and back, I was surprised to find out that Kalu has never visited the Government House since May 29, 2007 when he officially vacated the place as governor. According to a statement by Kalu, the truth is that it is Chief T.A. Orji who is holding himself and the people of Abia State hostage, not Kalu. My advise to the governor is that he should know that there us God o!
Rubby Obinna writes from Ohaji, Imo State.
Disclaimer:

"The views/contents expressed in this article are the sole responsibility of the author(s) and do not necessarily reflect those of The Nigerian Voice. The Nigerian Voice will not be responsible or liable for any inaccurate or incorrect statements contained in this article."