I'll take sport to next level in Lagos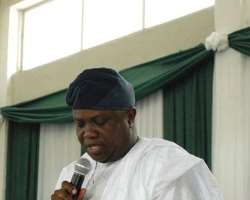 Akinwunmi Ambode, All Progressives Congress (APC) Governorship aspirant in Lagos State, has enthusiastically revealed that he was going to pursue a virile and visionary sport policy as he bids to succeed Mr. Babatunde Raji Fashola (SAN) at the state's Round House.
Ambode, the former Lagos top civil servant and financial gatekeeper, admitted that sport is the opium of the people and despite his packed and very tight schedule ahead of the party's forthcoming primaries on November 15, 2014, he spoken admirably about one of his priorities when given the mantle of leader­ship by his cherished party, APC and Lagosians in general, adding that Lagos State should be second to none in all spheres in the country.
"I want to believe this is not an interview per see in view of time constraint and because as somebody with a passion for and background in sport, I have a clear idea of what should be done to take sport to greater heights in the state which cannot be adequate­ly articulated within this short space of time," said Ambode, a product of Federal Government College, Warri where he excelled in hockey and cricket and played for the then Bendel State Cricket team while still a student. "There is no doubt that I love sport like every Nigerian particularly Lagosians and would give it more attention if I'm given the opportunity to man­age the affairs of the state."
Ambode who was born June 14, 1963, is an ac­countant, an administrator and a public finance management expert. He is the Chief Executive Of­ficer of Brandsmiths Consulting Limited – a firm that specializes in public sector finance management. He was formerly the Accountant-General of Lagos State, Nigeria, and held many sensitive financial positions in the Lagos State government in a 27-year career in the Lagos State Civil Service. He is a Fellow of the Institute of Chartered Accountants of Nigeria (ICAN) and a Member of the Nigerian Institute of Manage­ment. He is the founder of La Roche Leadership Foundation in 2012. This is a non-profit organization that has a mandate to develop the educational and leadership skills of young Nigerians, to inculcate in them leadership values as a way of grooming future leaders in all spheres of life. La Roche is presently spearheading an initiative, 'The Flags Project', to install Nigerian and Lagos State flags in all govern­ment owned schools in Lagos State. The Foundation has also donated tools to technical colleges to support training of artisans.
" There is no doubt that sport generally train those involved about so many things including leadership, honesty, sportsmanship amongst other things and that is why I vigorously embark on mentorship of our youths," he said of his NGO. He continued: ''We can equally invest in the youths through sport and one of my priorities would be to take sport to the next level in the state."
To say sport is synonymous with Lagos state is per­haps stating the obvious with many landmarks since it housed the National Stadium in Surulere(though presently abandoned) and not forgetting that the Oni­kan Stadium as well as the Teslim Balogun Stadium had all been 'theatre of dreams' for many athletes in the past and even now.
When the Lagos State government carved out the Ministry of Youth, Sports and Social Development in 1999 out of the erstwhile Lagos State Ministry of Women Affairs and Social Development and the defunct Ministry of Information, Culture and Sports during the tenure of His Excellency, Asiwaju Bola Ahmed Tinubu, it noted that part of its objectives was 'to be and remain the model Youth and Social Devel­opment Agency in Nigeria and beyond.
From
Nonso Inekwere
Abuja
Disclaimer:

"The views/contents expressed in this article are the sole responsibility of the author(s) and do not necessarily reflect those of The Nigerian Voice. The Nigerian Voice will not be responsible or liable for any inaccurate or incorrect statements contained in this article."