NOW, THEY HAVE SET OUR DEAR STATE ON FIRE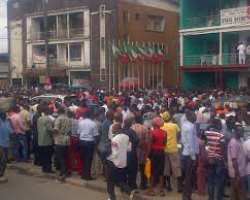 It is with sombre heart filled with sadness that the Rivers State chapter of the All Progressives Congress [APC] received the gory news that the in-fighting in the Rivers State chapter of the PDP has snowballed into the setting on fire of one of the prime properties of the government and people of Rivers State which serves as the state secretariat of the PDP.

The APC recalls that it warned Rivers people that there is a calculated attempt by the powers that be to first of all strangulate Rivers State economically and socially and then finally set it on fire to complete their strategic plan to politically and physically obliterate Rivers State from the Nigerian map. Their evil scheme has finally become public knowledge early this morning as men of the Rivers State Government Fire Service are battling to contain the fire at the PDP state secretariat ostensibly carried out by a faction of the party.

The APC would like to urge well-meaning Rivers people to immediately intervene and prevent our dear state from being burnt down and destroyed by evil men who want political power as a matter of life and death.
Chris Finebone
State Publicity Secretary
Friday, October 31, 2014.