Suicide Or Murder?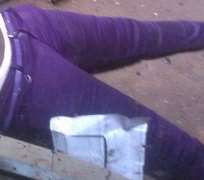 In an especially wide-ranging public out-cry, the Saturday, October 25, 2014, death of a 26-year-old Annet Ashaba, suggests requirement to review or sober analysis of the root causes of the so many mysterious deaths and statements given to the public by Uganda police, which arise following such traumatic events within the country.

Nearly five years ago, the country's former army commander, Gen James Kazini was bludgeoned to death and his girlfriend [Lydia Draru] allegedly admitted to having killed him.
Gen David Sejusa [Tinyefunza], a former coordinator of Uganda's intelligence when fled to London last year, he revealed that in actual fact Gen James Kazini (former army commander) had been killed on the orders of President Yoweri Museveni and that the murder was allegedly committed by goon trained as hit squad. Until today, The Uganda government has never come out to deny or challenged the allegations leveled by the former intelligence coordinator-Gen Sejusa. Many Ugandans have died and there has not been any proper investigation by the police to find out who exactly carried out the murder. There are many murder both political; business related or motivated that can be cited, the list is very long. Of recent, a young businesswoman who had toiled in Dubai to earn enough money to build herself a house in Uganda, returned and was soon found dead, allegedly having dropped 14 floors from Workers House in Kampala, the Ugandan capital.
What is amazing and equally disturbing about this recent episode is the photo of the dead woman that is now circulating in the social media.
According to the Uganda police official version, the law enforcement agent told the media and the public that Annette Ashaba was 'distressed' and therefore she decided to commit suicide. But was this really the case? Our investigative team has been studying this case. Did Ms Ashaba 'really' commit suicide or was she murdered? Here some of our findings.
In many previous deaths, the Uganda society silently, strongly remain critical of the current militarised police force, for failing to properly investigate the deaths or even record what exactly happened.
The observers believe that Police under the leadership of an army General Edward Kalekezi Kayihura; it has become one of the state's biggest cover for suspected criminals, because it provides cover-ups that normally affect all the investigations. This is where fear lies to many Ugandans working abroad. Their lives could be compromised because security is not guaranteed on arrival in the country. Last year; Uganda At Heart and the forum moderator, Abbey Ssemuwemba, strongly demanded for safety as well as expressing the general fears among Ugandans in Diaspora directly to the police chief, Gen. Edward Kalekezi Kayihura. The forum [UAH] debate was 'Uganda government should help Ugandans abroad feel free and safe to travel back home anytime.' In his own words; Gen. Kayihura, the police chief, in reference to the UAH arguers, he wrote: " You guys have a very distorted view of the situation at home."
"I have read and seen fabrications even on this [UAH] network," reads part of Gen. Kayihura's assertion, adding that: " Why people do these things when they know that it will be disproved with time!" Gen. Kayihura's point was, the country is safe and people alleging that it's not safe, were having delusion. He [Kayihura], further wrote: "Am ready to personally receive at the airport a representative delegation from abroad. I will arrange for you to move around and get acquainted with what is going on. Uganda is for all of us. This is your home and nobody can deny you your birthright. Am not a liar and there is trickery. Am being honest."
Then he went on to question the forum [UAH] members whether they read Uganda's dailies, saying: "Surely, gentlemen do you not read Uganda's dailies! The vicious criticisms by persons in Uganda."
"I think there is deliberate pretense here. We wine and dine with individuals who accuse of all sorts of things under the sky," he added. He told the members who fear for their lives when get to Uganda, saying that: "You are safe and we would assist in your visits. Why would you be under the misapprehension that you would be arrested?!"
In his own words, Gen. Kayihura reassured the forum members that: " Quite frankly, our main weapon has always been the force of argument. Yes, of course when debate fails and we are confronted by argument of force, we have to defend ourselves. Nobody has or will be victimized simply because they have said things on the net." The orators then cited the 2002, incident when 3 members of a family from Kasana Village –Luwero district were gunned down in a cold blood at Nyanama.
Either at that time Gen. Kayihura's argument based on misplaced information from his memory or it was intentionally spin and deny the facts and truth to see the light of the day, the issue was left to the general and his creator.
"You are mistaken," Gen. Kayihura told the member of the forum, adding that: "Am still the same only the situation has changed." He went on to explain: "Am still in the struggle to improve things. Am not perfect but at the same time am not a demon as you seem to think. I invite you home and we talk. There is no need from this animosity."
"I read a book called In Search of Enemies. Sometimes I think that some of you brothers are searching from enemies where they don't exist," the general's views suggested that the forum members were getting the information from the enemies of the state.
Either Maj. Gen. Kayihura's argument based on misplaced information from his memory or information spinning to deny the facts to see the light of the day, it is between the general and his creator.
Even when he was reminded of the June 12, 2002, when a toddler, Mirembe Nakabira [with American citizenship/passport] and 2 other family members from Nsasi-Kasana Luwero were brutally shot and killed at Nyanama, Kayihura totally feigned unaware of the incident.
On June 12, 2002, Mirembe (RIP) then, 12-year-old, a daughter of Paul Nsimbi . The teenager was about to complete her elementary school at Shadybrook Elementary School in Bedford Texas, was brutally murdered on her from Entebbe to Kampala. And man other family members who were on the entourage, which had gone to Entebbe Airport to wait for the visitors from America sustained gunshot wounds. The twelve-year-old Mirembe was shot in the head and immediately died together with her two uncles, the 35-year-old David Kyeyune (businessman) and 26-year-old Joseph Kayise then a third year Makerere University student.
The story is; Mirembere and her aunt Ellen Nakabira Sserunjogi, then a nurse in the US had just arrived from America. The two visitors from America received a huge welcome at Entebbe Airport by family members who had come from Nsasi-Kasana –Luwero. It was alleged that the motive was to stop the father from coming back to Uganda because he would have demanded to see the house he had commissioned to get built for him. Since then, and many stories of deceit and unfulfilled properties construction promises; many people fear to take that uncertain to travel to Uganda. Since traveling to Uganda could turn out to be a self initiated death penalty, particularly those sending money to their relatives or friends to construct the houses or buying land.
This very sad story has been recounted many times. It is being retold each time people in Diaspora get together and share their sad stories of failed investments and being let down by family members. This is not limited to Ugandans but also the same story in other parts of Africa.
Back to the death of 26-year-old Annet Ashaba, who has been working Dubai, said to have committed suicide on learning that; she had been fleeced of her hard earned money by a 'relative'.
Surprisingly; all reports quote the police, which took the responsibility to represent the eyewitness, the Workers' House management and the relatives. We've not heard from the relatives, only from a single police source.
According to the Kampala police spokesman, Patrick Onyango; he turned out to be the single source of information about the deaths of the young woman; representing the eyewitnesses, the Workers' House management, the relative(s) and the police force.
This newspaper had earlier tried to get comments from Onyango about the inconsistencies in the Ashaba 'suicide' reports given to public; but for the bigger part of Monday, it was like chasing a Bluefin Tuna in an Ocean.
Mr Onyango with many cell-phones; you have to relay on probability to get a comment. At last this newspaper managed to trace him at about 19:50 hours (UK 16:50 hours) on a secretive number only given to journalists friendly and report the only police version.
In a telephone interview with Mr Onyango, some more details emerged about Ashaba's death, which can possibly not be true, unless investigation procedures were not followed.
"We [police] haven't interviewed the person allegedly fleeced Annet's money," Onyango told this newspaper, adding that: "We couldn't establish whether the amount of money allegedly fleeced were appropriate or not. We cannot confirm whether she was cheated."
He said they don't know the amount of money allegedly fleeced and they can't make any arrest.
The police spokesman said: "We talked to her young brother, Ezra Kamuzira who has been staying with her in Nyanama."
"He [Ezra Kamuzira] told as that she left the home at 8pm [Friday]," said Mr Onyango adding, " She committed suicide at the Workers' House at 9am."
When asked, why of all places she decided to go to the Workers House, instead of going to report to police or complain to other authorities; Onyango retorted: "I wish I know why?" Asked it is not odd for a person of such body mass to fall from the 14th floor and the body remains, disintegrated; no lacerations and no blood? Onyango furiously questioned: "What are you trying to insinuate?" He quickly asked: "Do you think the police has something to do with this death?" "Anyway, I have to go, its 8pm here," he hanged-up the phone. Like many mysterious deaths in Uganda, police always fails to explain or carry out conclusive investigations.
Although, the official police version that Ashaba got confused and jumped from the 14th Floor of the Workers House to take her life because she had been fleeced of her hard earned money by a relative the crime scene betrays this line. The fact that, according to the photo obtained and circulation around the social media, her clothes dominated by white colours and no traces or stains of blood; this leaves whole-marks in the official version!
"It is strange; no blood splash whatsoever. The posture was so tidy to fit the small space. No brain splash like is always the cases when people committed suicide at the same place. But above all she is tied, so suicide person could tie themselves because then they defeat their goal They cant jump!", this is the account of a Ugandan journalist who arrived at the scene. He added: "You know the situation and the atmosphere in Uganda; all the institution are dead. The society gets scared; but after some time everything dies off. Even journalists are prevented from doing a good job."
Unlike the previous individuals that have taken their lives at the Workers House; this [Annet Ashaba] death beats brainpower, her paper-handbag still in good shape; no blood around the scene. She was in a T-Shirt dominated with white colours; the paper handbag also white and no traces blood! Ms Ashaba's body-mass was no less than 60 kgs, falling from 14th floor and remains in such shape beats the study of physics for falling objects. According to physics heavy objects fall fast and light objects fall slow. The heavier the object equals to the impact caused by reverse force. She was not an employee; had no relative working and she had never remitted saving to the institutions.
Observers believe that since the Workers House previously witnessed several suicide; no one would dispute if such a body is planted. All of them have seen their bodies getting disintegrated; broken limbs; shattered heads, pools of blood. But this is considered another mysterious murder that requires more investigations.
However, the public concerns that a country with broken institutions or law enforcement agents who cover-up suspected criminals results may not be achieved.
Still fresh in the memories of many Ugandans are the 2005 and 2007 incidents when two coordinated suspected criminals attacked the High Court and unarmed protesters respectively.
The first group [Black Mamba] raided and surrounded the Uganda High Court in 2005 in an effort to re-arrest then the opposition leader Dr Kizza Besigye and 22 others, who had been released by the court.
The second incident was in 2007, when sticks wielding group of goons commonly known as Kiboko Squad emerged from the precincts of Kampala Central Police Station (CPS) to beat up unarmed demonstrators. In the presence and supervision of the police the demonstration now turned bloody. To this date, many demonstrators were badly injured whilst others sustained permanent broken limbs and have remained physically impaired. No one has ever been held accountable for such acts and crimes that were committed in the presence of the police officers.
Kiboko Squad, emerged in April 2007, dressed in civilian clothes and armed with big sticks and beat up people who were protesting then President Yoweri Museveni commended them. He commended the Kiboko Squad because they beat up those who were protesting his proposed sale of Mabira Forest, the natural forest along the Kampala-Jinja highway, Mehta Group for sugarcane growing. It was later established that Kiboko Squad is part of the various informal security squads trained and mobilised to do dirty work for Museveni's NRM party and government. Even when the police surpervised such crimes; each law enforcement agency denies ownership or commandership of both groups.
A recent case; Uganda Police was accused of trying to block charges against Ms Jackie Uwera, the woman who drove and crashed her husband Juvenal Nsenga. The lady was related to a powerful individual in the ruling circles. The case had stalled because a disagreement between the Directorate of Public Prosecution (DPP) the police.
She was only produced after six months after she was arrested in connection with the death of her husband. This happened after the Attorney General was about to be sued or to have Ms Uwera produced in court over murder as sanctioned by the DPP.
The DPP had sanctioned the murder charges against Ms Uwera, but police had claimed that there was no evidence of intentional killing and the police went on to seek the advice of the AG. Ms Uwera has since been convicted by High Court for knocking down her husband with a car.
Annet Ashaba (RIP) raises another question; Is the Uganda Police turning the murder victim into a suspect?
Disclaimer:

"The views/contents expressed in this article are the sole responsibility of

Unknown Author

and do not necessarily reflect those of The Nigerian Voice. The Nigerian Voice will not be responsible or liable for any inaccurate or incorrect statements contained in this article."